her repeat blood work didn't improve at all with 24 hours of IV's and while she is no longer vomitting, she still isn't eating. she will be staying in awhile longer and hopefully her blood work improves tomorrow. the vet says that she is stable for now tho so that is good news i suppose if her actually feeling better is not an option yet.
miss you pixie-pop.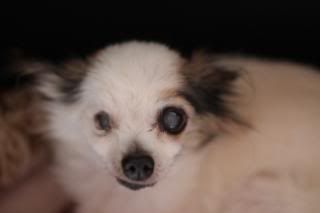 the little cherry pit is doing well again, eating and drinking and getting right pissed off with her meds!
if anyone is trying to get hold of me..i turned off the cell..it's constant ringing was bugging me, it has rung far too many times today and i needed a break..