This is a happy story Leila did for the Surrey SPCA volunteer newsletter at the beginning of 2006. I used it for my Paws for a Cause web. I love this happy tail because it epitomizes two dogs that are very typical of the dogs that come into the shelters. One coming in very sick and the other coming with some very anti social behavior. They were both so similar in that they were under socialized but so very different because they chose to express their fears in such two very different ways. They are two very remarkable dogs who will forever leave their paw prints on our hearts.

Butch and Lexi both came to my sister and I as foster dogs in the third quarter of 2004 from the Surrey SPCA. Both remained with us for most of 2005. Both dogs came from neglectful backgrounds that contributed to their lack of socialization. Butch was a farm dog who lived outside and had never been off his property. Lexi was found in a stretch of woods in Abbotsford with a young litter of pups. Dogs like Butch and Lexi rarely make it. In their own ways, they beat the odds. They are my success stories for 2005.
Butch came in to the shelter severely under weight with a diarrhea problem. A couple weeks later, Butch still had not gained weight and continued to have a diarrhea problem. We took Butch in to foster so we could get him healthy. Three weeks after having Butch in our home, we discovered he had lymphoma cancer. At this point, we adopted Butch because he required immediate surgery to find out the extent of his cancer. Butch wasn't supposed to survive the surgery but he did. Even though the cancerous nodes had been removed from his intestines, Butch still had cancer cells throughout his digestive system. We really didn't expect Butch to last more than 6 months. However Butch stayed with us until December 1, 2005; a whole 9 months longer than we anticipated. In the time he was with us, he went through a round of chemo, went into remission, went out of remission and then remained on a holistic approach to medicine. Butch also had the opportunity to complete basic obedience, participate in agility courses, make buddies with the dogs that came in and out of our home, was the path to many new friends and was the constant companion of his number #1 human, my sister. We wanted Butch to live the life he was never given the chance to in his previous home and I believe we accomplished this for him.
Lexi came into our home as foster because she desperately needed some help with changing some of her extremely fearful behavior. She was out of control with it. Let's just say that Lexi had a nasty bark. As a friend of mine would say, the spit would fly when Lexi really got into it. Lexi wasn't a well liked dog as she had made a career out of keeping people away. It took 13 months of a lot of work from not only Lexi and me but a small group of very dedicated friends who know and love dogs. By the time Lexi left my home in October of 2005, Lexi had participated in 3 obedience classes, was part of a dog aggression seminar, tried her hand and failed at sheep herding, became an agility dog and participated in 2 community events. Her greatest success was that she was able to finally participate in agility off leash and no longer required a crate to flee into after her runs. I saw Lexi in December at an indoor swimming facility for canines. A stranger, no less a man, had taught Lexi to swim by this time. I saw Lexi surrounded by people that she felt safe and comfortable with and she was happy. I could see it in her eyes. Those eyes that had lived with fear so long were finally able to soften.
Both Butch and Lexi came to us just before the 2004 Paws for a Cause Walk-a-thon. At this time neither was able to participate in the walk; Butch, because he was too weak and Lexi because she was too fearful. In the 2005 Paws for a Cause Walk-a-thon, both Butch and Lexi successfully completed the walk. This was a goal that both my sister and I wanted to accomplish for Butch and Lexi and we are very proud that they were able to do it. We would like to thank the Surrey SPCA for giving us a chance to foster these very special dogs. We hope that there will be many more dogs like Lexi and Butch that will come into our lives through the SPCA foster program.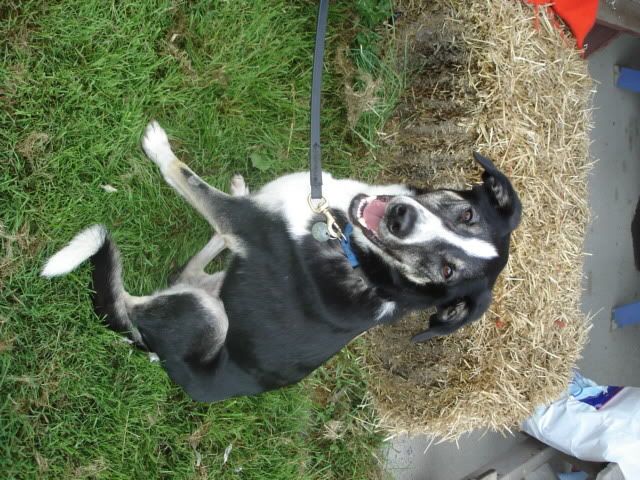 Butch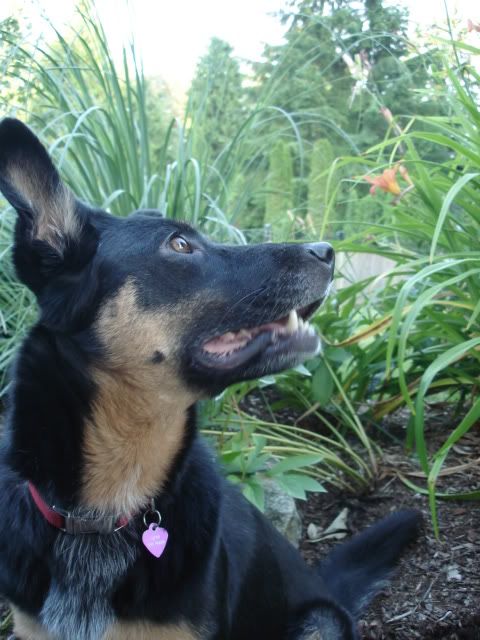 Lexi