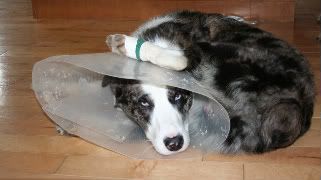 This is Quinn just after his neuter and removal of one teeny, tiny, declaw that looked more like a nail. Quinn needed to rest his ouchy. He fell asleep in this posture. The first big news is that Quinn has an ouchy. The second news is that Quinn has found a home.
While we were on holidays we kenneled Quinn with Patrick and an employee that works at the kennels on the weekends because he loves dogs (he has a full time job ) just loved, loved Quinn and more importantly he liked Patrick. He tried several times to get a hold of Leila and kept missing her. Today Craig met us and Quinn again. When Leila found out that Patrick really liked Craig and was playing with him and was rolling over and asking for tummy rubs - she knew she more than likely found Quinn's home. Patrick is usually shy of men. The last time there was a male attendent at this kennel and he tried to walk Patrick - Patrick wouldn't come out of his kennel. Craig was really surprised to find this out because apparently Patrick had no problems coming up to him. So Craig had high marks in our books. Leila knows the kennel manager and spoke to her and Craig got a glowing report. He spoke to Leila about one of the kennels' client dog whose history Leila is familiar with. This dog has some fear aggression issues and Craig explained to Leila how he negotiated with the dog so the dog could come out of his kennel and into the field with Craig still respecting his space. Apparently Craig strung together a couple of good sentences because Leila was saying yes to him in less than 15 minutes when it usually takes more than an hour. A new record and this is the first time we have adopted to a single male. One of the kennels' clients that just fell in love with Quinn's stellar looks told us that Quinn was a getting a wonderful home because Craig is so good with the dogs.
Quinn continues to be shy but he has come along ways. He still needs a little bit more growth - he is still afraid of new places and things but he is gets better, and better at meeting people and he loves other dogs (except Oliver). He is generally a happy dog who just enjoys smelling the daisies. Okay so sometimes he doesn't go through the front door and sometimes he has be coaxed into the car and he cries something fierce if you try to pick him and put him on a scale. And in times of stress he will occassionaly submissive pee. But he now loves the his walks, walks with his head up instead of slouched down and almost always has a smile on his face - except when he has an ouchy.