I just came back from India and got a new perspective of dogs. The pictures below are the crappy one's I was able to take because 1. I left my good camera at home and 2. These dogs really did not want their pictures taken.
The pictures I took are all the dogs that lived in the agricultural village I stayed in. It had a population of about 200 but there was another village that was almost butt up against it. Which happens when you go to a country the size of off Western Canada but has a population of just short 1.8 billion (yes billion) people compared to our western Canadian population of just over 10 million. I thought Britain was crowded but in the 8 hour trip from New Delhi to the small village there was not one spot that did not have human habitation. Which has nothing to do with dogs but it was astounding to me.
On this very long trip I saw people walking, driving bikes, driving motor bikes with two, three, and yes sometimes four people on the one bike and people being pulled by horses and water buffaloes. It seems everyone lives up alongside the road. In one section I saw garbage in ditches with people scavenging and pigs following just behind them. I wish I had got a picture of that. And I also saw dogs ... many dogs walking alongside the people walking and managing to avoid the traffic just like the people did.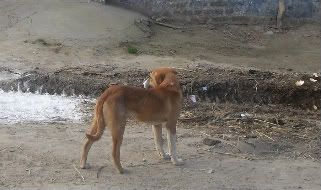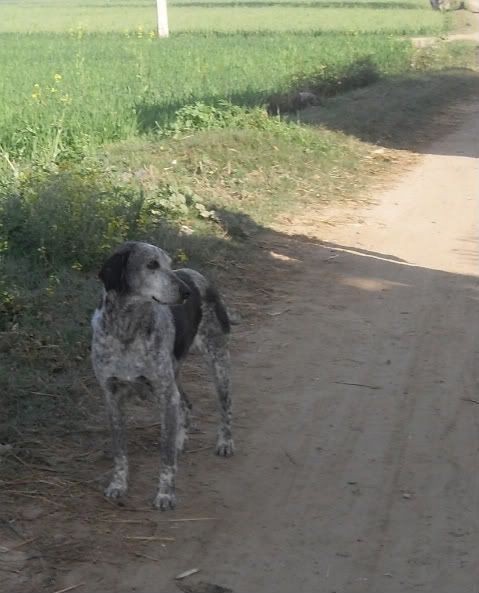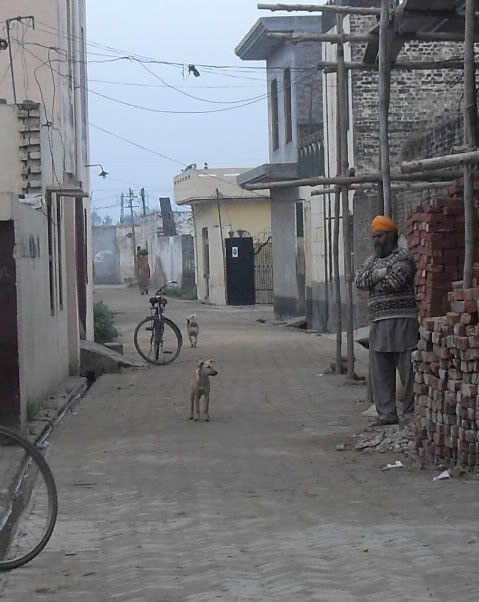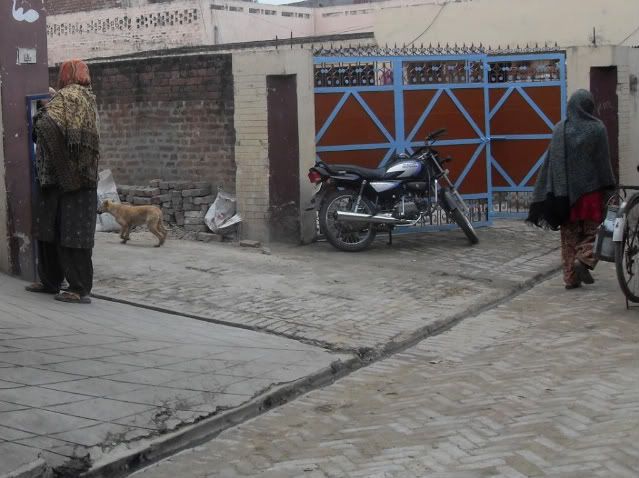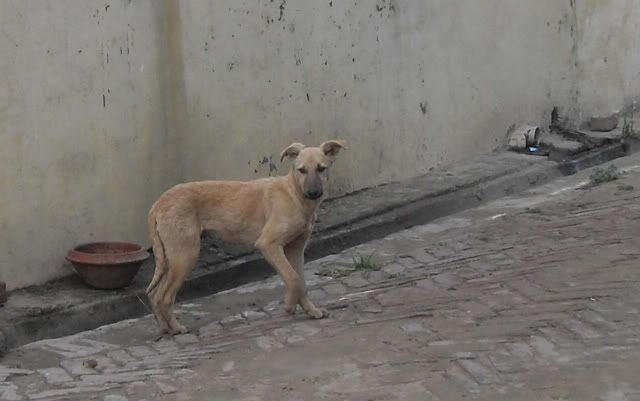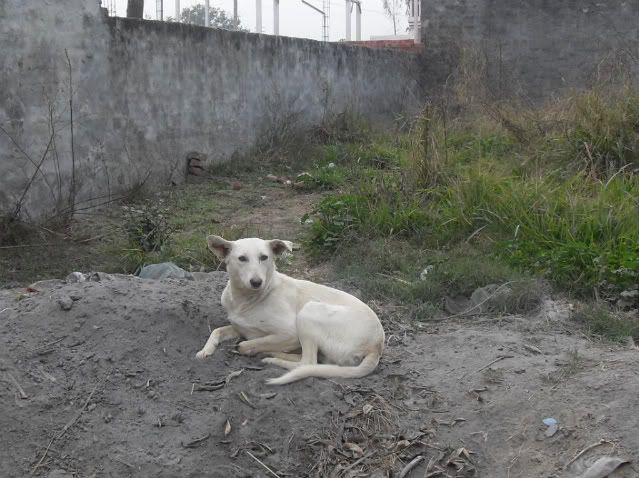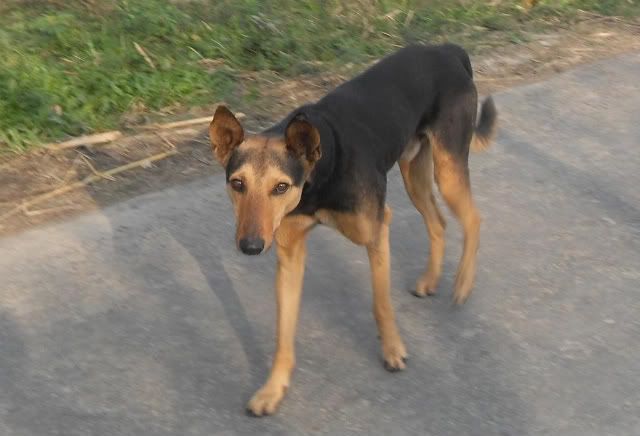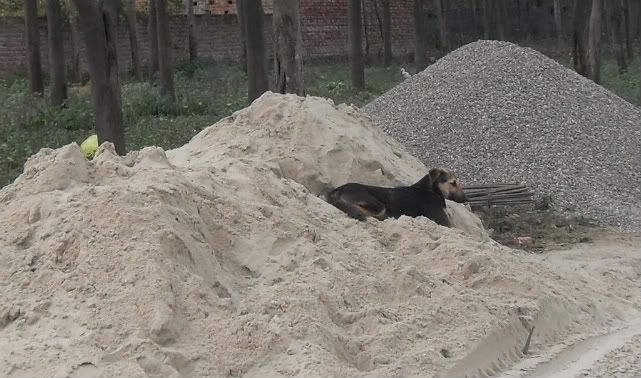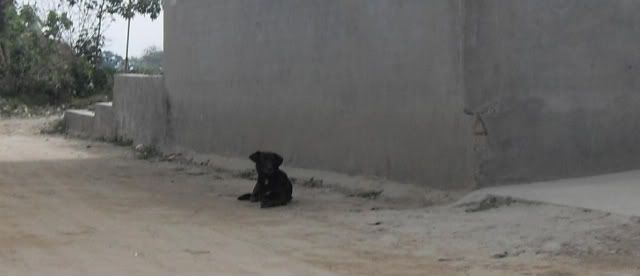 The pictures of the dogs above are all outside dogs. At first I thought they were all strays but I started to figure out that some of them belong to certain farms and houses. The ones that are owned are not skinny – in fact some were kind of fatty pattaties. The strays are on the thin side. All these dogs live in amongst the people of the village. They were very wary of me (but not my brother who I went with) because I kept looking at them or acknowledging them as I like to say. I had to learn not to pay attention to them – but even when I did not look they were still wary of me and me only. I think it must have been my body language because they knew I was just lying and I was really watching. Dogs... has my brother explained to me... here are considered animals like the birds and some are household pets but he couldn't figure out how it was decided which one was a stray and which one would become a stray. With my western sensibilities (I have 4 dogs living inside my house) I couldn't figure out why weren't these dogs sad, and pathetic and looking for human love. It is because they got all of that from each other's company. Dogs in this village were dogs in a way my dogs are not allowed to be... They are off leash all day long and the move in and about at will and they laze in the sun in the fields or the doorsteps and they protect their street like crazy against dogs that they feel do not belong on "their property". The first night I didn't sleep because one of the dogs decided to spend the whole night patrolling his street (which happened to the street I was staying on) for two three hours. Up, down and round bark, bark, bark and then a howl. One night there were about four that did this and I slept so badly I couldn't get up at the requisite 6:30 AM wakeup call. My brother told me wow... look how the dogs know how to go out in the fields to defecate because the streets were clean of poop and we were corrected... they do poop but the villagers pick up and dispose of it. In the mornings the dogs would be out in the fields and they would see each other and greet each other with glee. The ones that belonged to someone would follow behind their owners with a cool trot. They were excited because they knew they were going out to the fields.
I did, because I just had to, start going out and giving small treats to the dogs to make friends. I made sure I limited what I took out and I didn't always give to the same dog because I was very aware that I was only going to be around for two weeks and I couldn't have the dogs think I was a consistent supplier of meals for them. I did get one little cutie patootie on her second day ... roll over on her back and she let me touch her that day and also on the second day. I made sure I kept my touching to a minimum because I knew I was leaving and it would be wrong for me to start a relationship with her. It was hard because she had a front leg she was nursing. She couldn't weight bear on it and when running through the village would use only 3 legs.
I thought a lot about what was different about these "outside" and homeless dogs compared to our dogs here in BC and I realized these dogs did not crave or miss the human – dog bound that we have with our animals. I realized they are dogs in a way we don't allow our dogs to be. They are allowed to be territorial (no one came out and yelled at the dogs in the middle of the night to get out... I was told that the dogs are doing their job of protecting their area when they bark at night), they are allowed to poop wherever, and they have no restriction of their ability to move about and they get choose their mates. I came home and when I was talking about this with a friend she said we keep our dogs in perpetual puppyhood. I think we isolate our dogs so that they can't have their own rules living the way dogs would naturally with each other without human interference.
On the minus side there were so many, many female dogs that had babies (the picture of the last dog is a mommy dog and she is a stray... her puppies where in a straw hut and were only about a week old), the little puppy with the hurt front leg will not go to a vet, there was one farm dog that had such a bad case of mange that I couldn't understand how he was so healthy in his movements and alert and I saw very few older dogs. I wondered how many puppies survive... because they don't receive any inoculations for worming, parvo etc. But here is the thing ... a huge part of the population have no medical treatment, children are not given inoculations etc. It is very confusing when you realize a large portion of the human population live in such a way that I burst into tears twice... the third time I could feel the tears welling up I wouldn't let myself because what was that but me indulging myself.
And here is the other thing I saw... in some parts of the larger cities ... India is cleaning up and becoming more global in their attitudes. This means I would see some dogs being walked on leash in the cities. It looked kind of odd. There was one fellow in the village that had a big goofy yellow lab and he always had the dog with him on leash and he was in the house at night. I wasn't sure if I felt sorry for him or not – glad he had the love of a human but sad that he didn't have the freedom and companionship the other dogs in the village had. I thought this was the best picture I saw – there was a young pup that had a physical problem with his back legs (his gait was odd) and he was totally a pet dog. The boy who had him said he has something wrong with his back so I keep him with me all the time. He was allowed to run loose and happy and he wasn't told to sit before eating, and no jumping, and he could take off because he would always come back, and he was even allowed to bark at me and not be reprimanded. He didn't like me either.
Here is the sad thing...these dogs survive in India because they are scavengers and there is a lot of garbage in the poorer or less developed areas... I mean organic garbage. Once this disappears – which it will – the dogs will 1. No longer have a food source and 2. No longer have a role. In 10 years here is what I think is going to happen... pounds will start to appear and then dogs will be taken off the streets and then the same situation that is happening in states such as California will start to happen. I mean lots of dogs and not enough homes for them = euthinization.

Please check out this website to see the dogs that live in the cities www.eloiseleyden.co.uk/slum-dogs
I couldn't take pictures of them in the city and this woman took a very accurate picture of dogs that live in more urban areas.
Carol this is really looonggg so I am going to do the farm animals in another post