Animal Updates
i just want to quickly introduce our 2 new saints before i go off to kill myself.
Carol · May 12, 2010
both are unclaimed strays..old, blind/deaf with with various medical problems..ie rotting skin, luxating patellas, bad ears, bad eyes, peridontal disease plus god only knows what hidden surprizes we will find in their bloodwork.
anyway..they were currently unadoptable so now they are saints.
merry is a sweet little maltese poodle cross. her skin is so bad that her ear canals have closed up completely and who is currently barking her head off cuz i just left her in the kitchen before i take them both off to my bed to watch idol.
tinkerbelle is a tiny tea cup blind yorkie who absolutely INSISTS on being carried around and quacks like a duck....totally adorable.
we are sweet and cute and I know you will fall in love with us ... Laura!!!

tinkerbell especially ... would look really good beside ... BANJO!!!!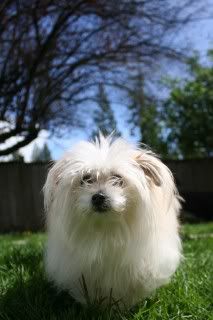 ok gotta go they are both having a freaking cow....demanding little buggers for newbies...who the hell told them i could be bossed around?