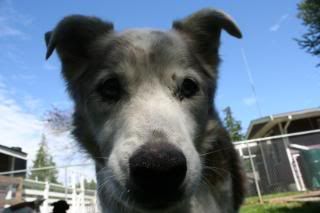 the vet did examine him and his rectum was starting to close off from the tumour. he was going to hit a bowel crises pretty soon here so we decided to save him from that.
kodi thought today was an interesting adventure...except for the rectal check, he thought the trip was pretty good. he did get his couple of cheese burgers and i think he might have wanted a couple of more. he had his good friend ann with him and it made him happy that she was there.

while kodi was a pain in the ass around here..he was our pain in the ass. he was a big part of the saints family and i am missing his unique form of chaos right now.
it is too quiet here kodi, it just doesn't feel really right.
i hope you are not resting in peace but gleefully herding angels with wings....miss you kodi-bear, in your own crazy cattle dog way, you were a really good dog.

**Modern Dog link to Kodi's Photo and write up**