well...it really should not be all that easy, but the fact of the matter is...i did.
as i was making the barn guys dinners, i periodically called out the window of the feed shed..."ellie honey...dinner is ready."..."ellie...i have apples and bananas..."..."supper time ellie."
and no ellie appeared. well ok, that is sort of normal for her...she likes you to go and get her. so i put everyone else to bed and gave them their dinners and went looking for my not so little pink princess who likes an up close and personal invitation. i hiked down to the pond and went to her bed near the neighbors zen waterfall...hmmm...no ellie. i checked thru the rest of the trees and no sign of her. i walked the entire lower field calling out to her. i checked around the side of the manure pile and the trees beneath the barn and then walked the top of the manure pile and peered down. i decided she must be up in the riding ring, inside one of the barns..but there was no ellie. i went into the upper field and checked behind the loafing shed..not there either.
colleen went by so i asked her if she had seen her? she said to try down by the pond and offerred to help look for her..i said that was ok cuz i must have missed her down there.
so down i went and did the entire looking for ellie thing all over again,...but more carefully...no ellie..i came back up and did the barns and sheds again...no pink pig anywhere.
bad thoughts are starting to go thru my head...did someone steal her? good lord...was that her being barbacued that i smelled from far down the road????..holy shit, did she start to seizure while having a drink and sink into the depths of the pond?????? i peered into that murky water many times..looking for the tip of an ear...how deep is that pond anyway?
i did the entire property really carefully for the third time. then i called laura and mo..where was she when they saw her last? and i looked again. laura showed up to help look as i was starting the fifth go around. i am starting to panic..mo is ready to jump into her car and dredge the pond.
laura found her...barely and by accident too. ellie had found her 800 pound spot where she was virtually invisible. i started to cry i was so relieved she was alive and well and not stolen or eaten or at the bottom of our pond.
i went over to tell her how worried i was..and that freaking pig looked right at me and KNEW exactly that i had been going crazy looking for her and she just stayed there silently interested in seeing how long it would take for us to find her.
since the game was done and she was found, she got up and came right up for her dinner.

oh, the search party found me ... sigh I surrender ... to bed then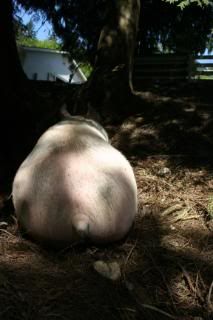 bad pig.