i was just too tired by the time i got done around here. jenn was here so at least i didn't ditch her....she, tammy and i went out for ice cream this afternoon and then i came home and had a power nap...now i feel re-charged for round two..evening chores at saints.
just a bit of a caution on harold...he can snap if you go to move him til he knows you. i would leave his collar alone and just loop a leash on him as needed for now...actually he is not wearing a collar anyway so no point in trying to touch it. other than that (and eating walls) he is a really sweet dog.
i trial tested a dog who will probably be coming in a few weeks...right now i am too stressed and busy. she is a family surrender referred by our vet as she was up for possible euthanization. the family is in major conflict over this dog which is not good for her or for them. her name is bonita..and she is a lovely, healthy 12 yr old pitbull/lab and probably sharpei cross...she suffers from some anxiety, running away, destruction, and incontinence issues but if today was any indication, i think she will probably really enjoy herself here...there is lots for her to do to keep herself busy.
i did not test her with the cats but with the other dogs and the farm guys...even if she sucks with cats, we can deal with that as long as the other animals are fine because she needs to be able to fart around on the farm as much as she can. lots of busy energy in that dog that needs a consistent release.
anyway..i said we would try her in 2-4 weeks depending on my schedule cuz i need to be here quite a bit when she comes initially.
sweet caroline is slightly more settled but not near to enough yet. gideon is still eating really well, three meals a day so i am over the moon over that...so not ready to lose him. (mo, i don't know if you fed him lunch before you left cuz it was early, so i fed him just in case...maybe he ate twice???)

Sweet Caroline was not as camera shy as Liz and Annie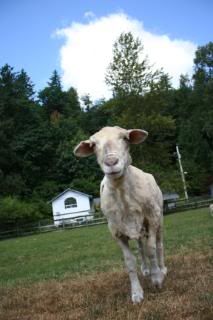 Giddeon, our white knight is getting stronger day by day!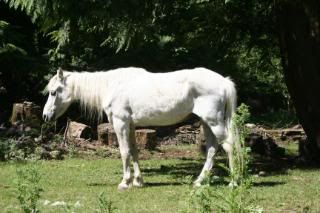 jesse is still pretty sore on that foot...can't find a puncture anywhere but he is on house rest for now.
we got all of the bunnies sorted out...except ray. he was just a little bugger where ever we tried him (the brown betty's were traumatized by him!)...actually so was bob but in a different way. but bob is a really busy rabbit so he got the new pen and roy just got a bigger cage for him....at least for now. we might try him and bob again once their hormones have a bit longer to settle down.
tammy suggested we try billy with the girls and sidney (evil pinky and the brain bunny) sidney is normally a total jerk but he has been so depressed since maple's passing that he just did not care that we stuck billy in there. we ended up with a 4 way match by default. i hope sidney perks up soon...puff and spiffy miss maple too...maybe billy will help them all get over their grief....he is a really sweet bunny too.

Billy ... and Sidney with Puff or Spiffy (not sure which one)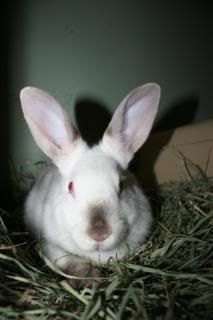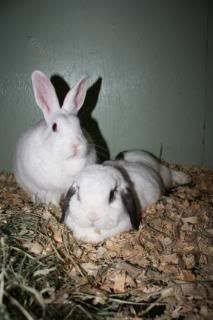 several tours went thru this weekend..the weather was good..i did a couple and i think laura did three so that was ok. one couple donated money to us as a wedding gift to friends. and a sweet little four year old donated her birthday money! she is going to grow up into a pretty special adult..for now she is a pretty sweet and kind little girl.
bibi is not hugely happy with not being allowed in the computer room but it was a good move. harold is doing well in there and maude is more settled without bibi ragging on her.

Hmph! and why is he copying MY hair style, huh? ... AM NOT!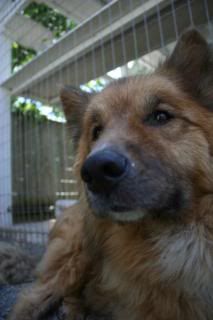 i ADORE kira...that tiny thing makes the absolutely best-est noises. she is so going to be spoiled rotten. anyone who can communicate the way that she does can have anything she damn well wants as soon as she wants it too. we have to get her on tape.

Oh who mio?