Animal Updates
My Saturday confessions with a pink princess
Jenn · Oct. 27, 2010
So here are my Saturday pics. I have been very busy this week and just could not find the time until now. The little spare time I had may or may not have consisted of watching TV and making Pepsi Contest poster ok, shush. But they are better late than never, right?
Saturday was a GREAT day at SAINTS, the weather was fantastic, the animals were happy, there were wonderful working volunteers in all the areas. I was planning on training the new volunteer Alison but she had so nicely arrived early and gone straight to work with Laura and Brianne guiding her she clean the FelV area. After that she poop scooped the yards and then helped out in the barns. WOW--ALL-star weekend warriors!
So while everyone was working hard, I quickly buggered off and did my own thing. And this is what I did ...
I started with a lovely walk around the pond with Carol, Mo and about a dozen happy, running, playing, barking dogs.

While Al sulked around with little confidence, Kia was bombing around like she was the boss (she was even barking and bossing Daphne around, can you imagine!).

And that reminds me ... KO and I would like to formally announce the blossoming friendship of Daphne and Reggie. Yup! that are great friends and spend much of their time together barking and chasing each other it is quite fun to watch but also quite annoying to listen to.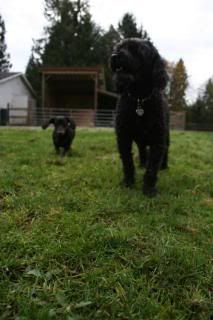 I think Percy also made a new friend by giving new volunteer Linda, her first cow lick. It was quite special to watch. She giggled with glee and said, "Ah, his tongue is so rough."

Anyways, after the walk and a few shots I saw Ellie being very active and following me around. So I decided to play that game and follow her around.

She had been rooting in the field when she decided it was not roots she wanted but some tasty wooden fence ... YUM!

Then she decided that she want to lay on wood and eat it. So she promptly proceeded to the bark mulch pile, which makes a nice snack and a snug daytime bed for a pink princess. yeah not really sure why she was snacking on the wood chips, but hey, who am I to question the whim of a princess.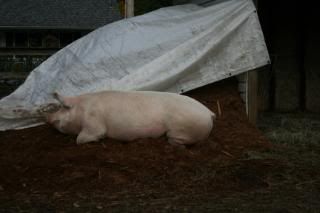 So her she is on her throne overlooking her kingdom ... happy as a pig in ____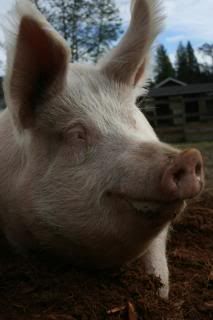 As you can see, she is very LARGE and IN CHARGE ... and Daphne looks incredibly small !!!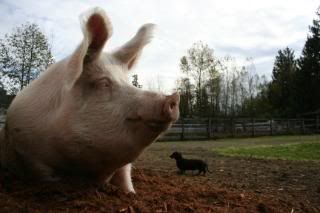 OH and Daphne was getting herself rather dirty in the wood pile.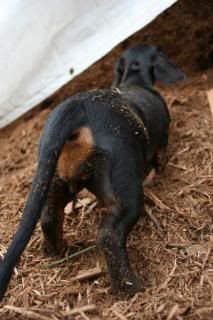 The horses were busy in the field and I saw czar and Gideon grooming each other so I though Ellie might like a brushing. So Mo gave me a nice soft brush to groom Ellie with and she really liked it. I did both side of her because she rolled over. I got all the dirt and A LOT of dried skin off her (it was kinds gross).

I mean have you ever seen a more handsome and clean pig? I even brushed her ear fringe!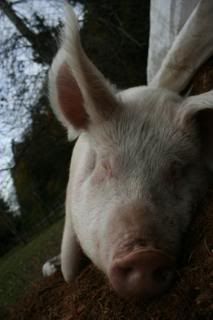 So I left her to go and spread the love. I tried to brush Ziggy but he wasn't all that into it, neither were the goats. Well, Edith I did not even try ...

The cows kinda liked it, especially under their chins and on their necks. But when they realized I did not have food and did not, infact, want my hair cleaned with their slobber, they lost interest.

And after I was done making sure everyone looked pretty I turned around and my very once clean and pretty princess had followed me over into the riding ring and started happily rubbing her face in the sand ... ACK!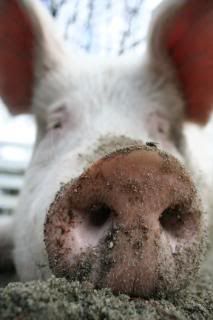 So then I headed into the medical room to visit with some civilized house cats.
Charlie needs grooming because matt are appearing all over her back end ( I think she is too round to groom herself back there). Ater a few swipes of the brush I could see it was hopeless. I think she might need to be shaved! Lilith does a good job keeping herself groomed so got treats too.

Oh and I did change Cali's bed because she had peed in it again. So see there was one useful thing I did!

Ha, look like my days work was done so I headed into the house to hang out.
The back cats seemed quite content.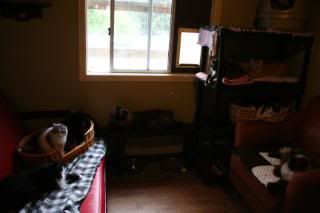 and I was please to see how social ebony and chief are getting.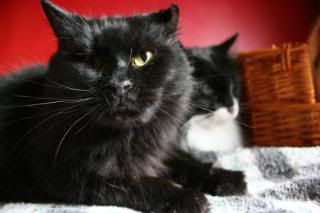 I got a great picture of our fast moving Morgan (she is impossible to get pictures of because she NEVER stops moving)

I also finally got a good shot of Snickers showing his extra toes! COOL.

Laura took these pics with my camera (great shots see anyone can do it with the right camera!) of the new girl Bambi (now Wallace?) from the Chilliwack SPCA. She had a full dental and was shaved because she was one giant matt (gross).

Speaking of new guys ... Jelly and Kia were great barn buddies I heard!!! yeah I think Mo has fallen for Kia, who is quite the character.

So right at the end of the day I forgot that Dawn had asked me to get a picture for her of one of the dogs in front of the fireplace (perferably a large dog) so that she could create a thank you to the company that had given us a great deal on those fireplaces. So I grabbed a cookie (real cookie) and Esther was very willing to be my model. I turned the fireplace on and even though it was already a warm day she was a very good dog and sat and let me take a couple pictures of her.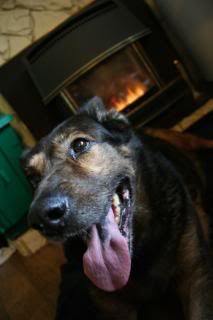 AND then Pheobe decided she wanted in the shot ... she always steals the lime light. But she is sitting nicely so that good! So this picture is my Cute picture of the Week!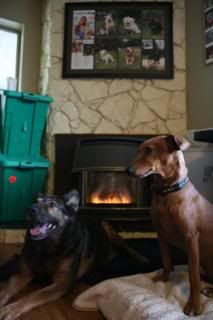 And finally, Shelley was nice enough to set up a SAINTS Flickr account, which is a picture sharing site very popular among photog enthusiasts. Here is the link: http://www.flickr.com/groups/saintsrescue/. Shelley had added a few pictures and I will add some eventually as well.