the 2 groups ahead of us in the pepsi challenge are good causes...i never really thought we would win in the first place and i shouldn't have been counting on that money anyway to pay the vet bills. the hard part is being so close and then falling at the very end..then it just seems almost too real, too much of a possibility..but in the end, happily ever after fairy tales mostly just do not happen in rescue. and we will survive without winning...it just will be the usual struggle instead of a miracle save.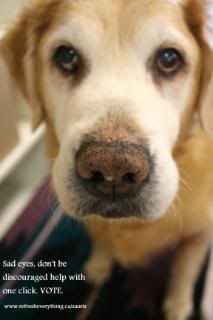 and just so you know...part of this is my fault cuz i just can't do the voting strategy political game. we win because enough individual people vote for us or we don't win because not enough people do. to me that is fair, it is personal choice of people doing what their hearts and souls feel right for them to do.
laura is planning the bake sale for november and hopefully enough christmas donations will come in december to clear all the vet bills by the end of the year and life carries on at saints just like it has for the past six years.
i picked up the 2 new puppy mill breeders from the spca today. 10 yr old sydney is an absolute hoot...cute as a button and with lots of personality too. he needs a couple of different eye drops each day and has luxating patellas.
hootie is the little female who has been bred far too much and she has mammary tumours. she is a bit quieter and more dignified but still super sweet and adorable...i forget her age and the paperwork is in the car so i will look later...but i think she might be about 7 or 8.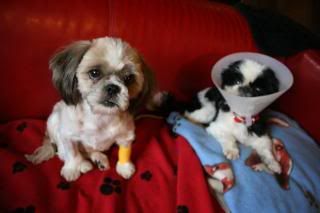 dee had a blast today out in the barns with the weekend barn crew...she played with toys and rolled around and really enjoyed the whole barn routine and atmosphere. she does tire quite easily and needs frequent rests but then she is up and at her again.

we did one quite large tour group today and they all seemed to enjoy the day..all really nice people so that was great. while i was out getting the new guys, jesse made it out of the office and back into the big dog room and reggie reclaimed the office which he is happy about too.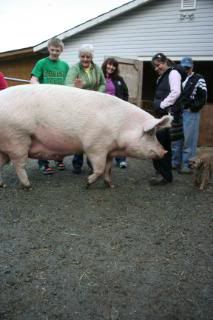 whatever you guys, have it your way, i give up so fine!
for all of the worry, the disappointments and difficulties that rescue presents..i will tell you this...at the end of the day, when the old guys, the new guys, and the ones who have been here briefly in between a long or a short time....at the end of the day when everyone is comfortable, settled and sleeping...i can't help but be grateful that saints was here for them.
i don't know how much longer i will do this for...5 yrs, 10 yrs...god forbid..the rest of my life...but however long it is...for the animals that have come to saints as a very last resort...we have done well by them...we have cared well for them, we have met their medical needs...we have provided them with comfort, caring and security.
and they have all felt deeply valued and loved.
in a perfect world...there would be no need for places like saints but we do not live in a perfect world..we live in the world that mankind has made.