So Friday I had a sleepover at SAINTS ... haha yeah. It was interesting. I have slept there before but usually in the room above the shop, just me and Frodo. But this time the new dogs from Ace of Hearts had just arrived and the driver after driving for like 14 hours has going to be spending the night in the room above the shop and then driving home the next morning. SOoooo I slept with the bed buddies ... or I guess I WAS A BED BUDDY!!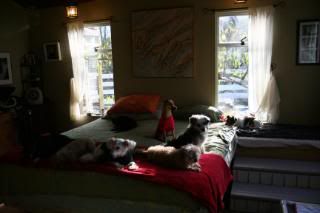 only problem was there were 4 new bed buddies: Hilda, Alf, Tina Fey and Prince

and little prince was basically sleeping on my head!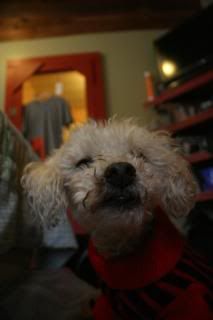 it could have been worse I suppose I was thankful Hilda did not try to rub her gunky eye on me .... ick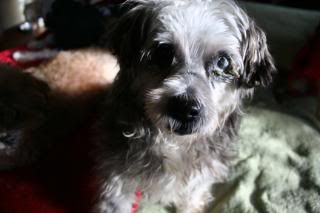 I think Alf slept on my mom's head! haha.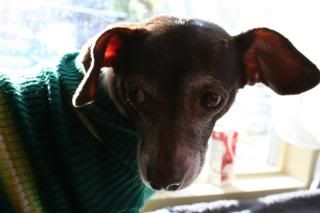 Sweety was a good girl and slept on a kuranda bed

there was no room for her any way.

Especially with AL--doesn't he realize he is just too big to be a bed buddy?
There was no room to move and I was twisted as an old women trying to work my way around all of the little bodies. ALSO, my mother who had originally promised to go sleep in the cat room (because she "breathes VERY loudly" when sleeping) said at midnight, "Turn the light off." Ah sigh, so I did and I let her stay but I got very little sleep and at 6am the nice man was knocking on the door asking for directions to get back to the border.
But despite all of that I had a great Saturday and got lots of pictures. There was a little snow friday so SAINTS looked very wintery.
This was SAINTS at 8am with the barn guys waiting for Mo to arrive and Al was already playing with a frozen soccer ball in the riding ring.

Just one big happy family ... goats, cows ...gilbert was walking right under Joy and she did not mind.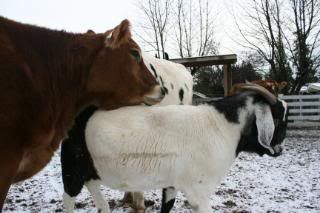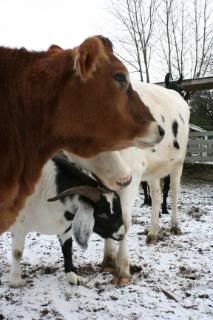 Ziggy seemed to be ok in the cold but I worry about his chest infection ...

The snow did not deter any of the dogs ... they were all up for their usual walk around the pond.

yeah unfortunately Pheobe came too and would not stay in the nice blue jacket I put on her either!

They also still wanted to play.

Dee ate many a stick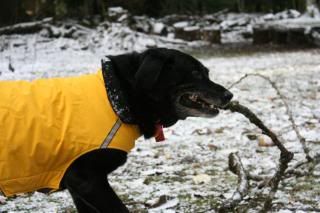 and Daphne wanted tennis balls thrown, even if they were frosty.

So because it was so chilly I put sweaters on every doggy that would let me ... so long as I had one that fit (esther was too round).

Tiny-Fey being from LA thought the ice age had retuend was especially thankful for the knitwear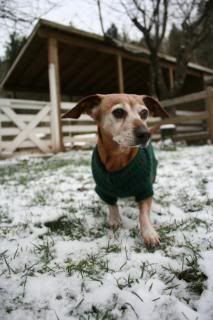 Here are some of the other news guy you may not have met yet

Here is Peter on his throne in the Medical Room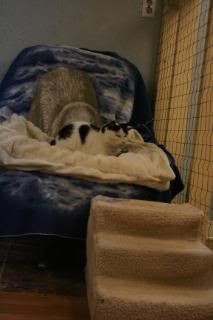 Bambi 2 also referred to lovingly as "the dingo"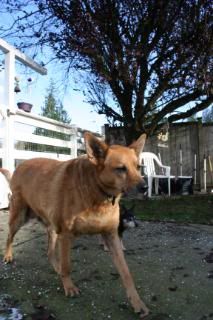 Here is Black Bart who has finally made into the house after testing negative for FeLV

Here is Cross-eye Chester who is a real sweety and loves to play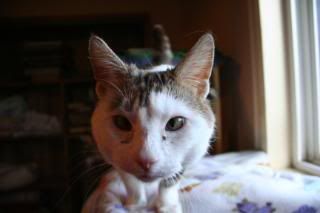 and I fell completely in love with Misty ... I think she is what one calls a Maine coon and I just love Maine coons and I love her!