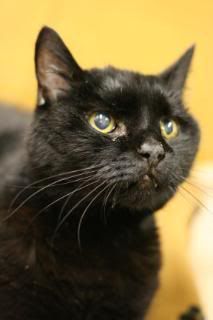 we lost happy gilmore today..he started with what seemed a minor cold yesterday and he had a massive stroke sometime during the night. i took him in and euthanized him today.
gil came in from the spca back last june...a senior cat with a wonky back end...we didn't know if he had been hit by a car or had suffered a previous stroke and thrown a clot. he hasn't been hugely active at our place because of his mobility problems but..he got his name because he was happy. he was happy all the time...even when we first got him and took him into the vet. they named him happy gilmore for us...mr happy gilmore cat.
i would have thought that gil couldn't walk at all because all i mostly saw of him was laying in bed...except we all knew he could walk because he kept switching beds. and happy would wait each morning and night for his canned food to be delivered to which ever was his bed at that moment...he saw no reason to move...the food would be coming directly to him soon.
even today when i picked him up and he was so obviously dying...happy purred his happy song. he purred right thru the pre-med sedation until he closed his eyes and slept.
happy gilmore was one of those incredible cats....he found true happiness in a homeless wrecked animal sanctuary. i will miss him...we all will miss him...he was a very great cat.
rest in peace happy gilmore, you made all of us happy just knowing you too.