....in the loving arms of tammy at home. she has had a very good last week but today things started to get rough for her again. tammy arranged for the vet to come and help ginger pass peacefully away.
she was a very sweet cat who found life was difficult and frightening until tammy took her home and gave her the home that she craved. ginger was one of those traumatized cats who needed to be secure and safe. she needed the predictability and the never ending concern and love that tammy was so easily able to share.
i know tammy is really feeling her loss today, and i offer my deepest condolences..but i can't help but think what a lucky little cat was ginger to find such happiness in the last 2 years of her life.
rest in peace ginger, and tammy, please take comfort in the happiness that you gave her.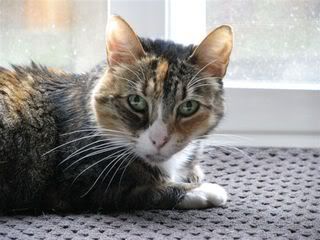 ginger...18 yrs young.