oh, not quite right...all dogs are a pain...shit... ALL ANIMALS IN GENERAL are a pain...yes! i like that best.
mystic ate skunk cabbage today which apparently causes mouth, esophageal and stomach ulcers. it took me a couple of tries to get hold of one of our vets but luckily one was able to take my sunday afternoon emergency call. i am to give liquid sulcrate three times today and they will check her out in the morning when she goes in for her spay.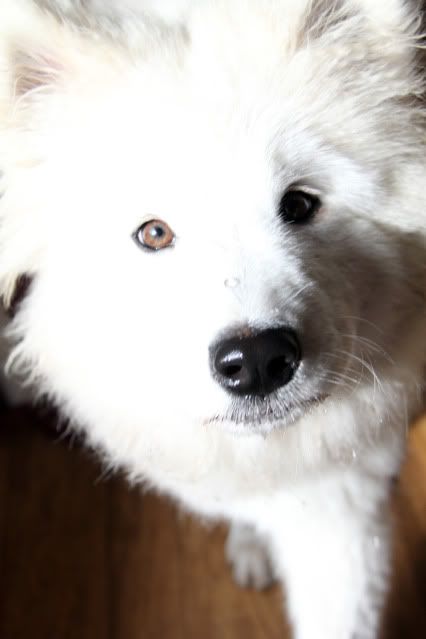 sherlock ripped to shreds about twenty brand new black garbage bags...that was quite a feat cuz we don't even keep garbage bags in his area.

just a heads up to everyone...any kind of plastic bag can be deadly to a dog (especially a moron puppy like sherlock)...if they stick their heads inside them, they can suffocate and if they try to eat them..they can lodge in the airway and suffocate them too or they can block the GI tract and that can kill them ....also...dogs have died from potato chip bags and the bags inside of cereal boxes too! dogs and any kind of bags are a REALLY bad combination. this would be why we store our garbage bags on the top shelf inside the hall of the back cat rooms (most cats aren't so stupid!)
the barn guys were pretty good at bedtime...each group was perfectly positioned for me to sneak on in, shut the gates and only have to deal with one group at a time.
jenn and i saw dixie today and gave her a walk. jenn got some photo's for me for the chapter i am currently working on for dixie's book (the chapter title is "dixie in the mirror!")

ok..i am bagged today...andy and tyke kept me awake way too late last night taking turns at barking non stop. at midnight i finally went flying out of bed and pointed a deadly finger in each of their directions and yelled...YOU TWO! SHUT UP NOW!!! as i was walking back to bed in the dark and my bare feet..i stepped right in a pile of shit and then i really lost it...as i hobbled over to turn the light on so i could see what was where under my feet, i continued yelling at all of them...
GOD DAMN FUCKING DOGS! YOU GUYS DON"T HAVE TO GO TO WORK TO PAY THE GOD DAMN MORTGAGE!!! ALL YOU DO IS FREAKING LAY AROUND AND MAKE GOD DAMN MESSES EVERYWHERE AND I AM GOD DAMN SICK OF IT!!! I HAVE A RIGHT TO SLEEP BEFORE I HAVE TO GO TO WORK, GOD DAMN IT!!!!
once i turned the light on..there were 20 sets of very round eyes all staring at me silently from their beds. i slammed out of my room and went and washed my foot, then took 2 tylenol and went back to bed.
there was not one single peep out of one single dog for the rest of the night..it was the quietest night i can remember for a very long time.
i don't lose my temper very often, but when i do even the dumbest and deafest dogs pay very close attention.