Rescue Journal
i hope this winter flies by as fast as the rest of the year did!
Carol · Nov. 21, 2011
winter at saints

i thought it was supposed to be warming up today...so why the heck is it snowing again???
the opportunity arose yesterday to introduce brad and ellie together in the riding ring. the opportunity presented because ellie wanted in fully knowing that brad was out and about. i figure ellie is a very smart pig and if she thought brad was ok to hang out with...being a pig herself...she ought to know.
it went fine for the first 10 minutes..neither one seemed to care that the other was there. but when she went into the barn, brad went in after her and hit her in the ass hard with his giant pig head. ellie started screaming and stumbling to get the heck out. brad started to go after her, but laura contained him for the (long) time it took me to get the highly offended ellie back out.
brad apparently just is not into making animal friends...so far it is a no go with both pigs and cows. i doubt we will try him again with anyone else....if he wants to spend his life on his own with just humans for friends i guess he can have what he wants. and... it occurs to me that ellie is far too trusting. she may be a royal pink princess to us but to brad the oafish commoner... she is just another gawd damn pig....brad is really not overly bright.
i did tell him last night that he better be careful...ellie is pretty damn special to me and he really does not want me pissed at him....it would be best not to upset our pink princess again.
oh and i found out why ellie was not cooperating at bedtime...apparently ko was laying down blankets on the cold ground for her to walk on. so last night while she sat there and looked highly interested in coming to bed but would not move her ass..i think she might have been waiting for me to lay down the magic carpets for her to walk upon.
as much as i love that pig..that is not happening...even princess pigs can walk on the ground like everyone else.
one of the dogs in the kitchen vomitted last night and had significant diarrhea...just can't seem to catch a glimpse of who it is. everyone seems perfectly fine so i hope it is nothing to worry about.
today i AM going to write the xmas letter..i have been so bogged down with worry that i didn't even bother to try...but i think i am moving into a more positive frame of mind... if i can get frustrated by goats and pigs at bedtime it must mean that comparatively speaking...the other stuff is not quite so bad anymore?
it was a great dinner out last night..i keep forgetting how utterly adorable lady and lippy are. new rule to myself..in the future..all wonderfully sweet and adorable animals are not for adoption, just the pain in the asses are.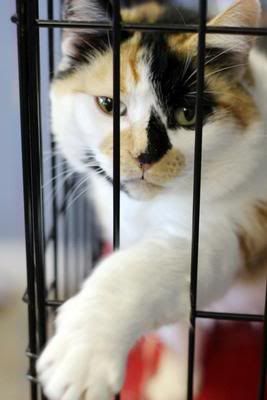 my name is tristie and i AM for adoption...come closer so i can whack the shit out of you!!!
(jenn posted a whole bunch more great photos in the facebook album!)