i can't believe i am back to work today..except for a couple of inbetween vacation/crises shifts..i have basically been off for more than a month. i just have this week to stumble thru and then i get another week of pre-booked vacation. part of me is looking forward to this..except i will have to use it to finish off deanna's stuff. i wish that was all done...and i have unfortunately used up most of my annual vacation just in these first 3 months...that really sucks.
oh well.
i did have the first decent sleep i have had in a while...no late night hospital trips or midnight emergency runs. i think the dogs were happy that they got to sleep thru without worrying about what i was up to too.
deep breath...finish off what is left...it has been a bit of a long haul.
jenn posted some new photo's to facebook..one of them is a shot of ellie with her all knowing eye. it is an incredible photo...it has churned me up inside. if you have a chance, have a look, you might be really surprised.
Here is the photo: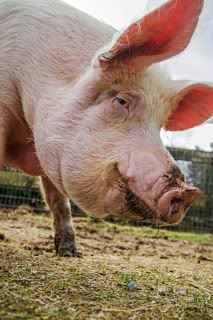 More photos here: https://www.facebook.com/#!/media/set/?set=a.527592380597027.113314.117789878243948&type=1