we got him into the vets today but he just kept deteriorating. the clinic phoned me around 4 pm at work and said basically, he was dying. i rushed right over, the vet thinks he had a tumour inside his heart and the violent vomitting episode last night probably started a slow rupture. lucas was 15 years old, and while i was totally worried about his faltering arthritic pain control, the rest of him seemed good to go...who knew our sweet boy hid something so deadly inside?
and here is the thing about caring for very old seniors...one day becomes their last day and you don't always know til it happens....every day is a treasure with them.
for those who do not know lucas's story...he was an spca cruelty seizure who came in last summer. once we got his pain under control, he really enjoyed his life...he wasn't too fond of the time he spent as a "house cow" with max the crazy cattle dog herding him around, but he tolerated even that really well.
we loved you lucas, you were a very sweet and gentle giant (his weight today was 94 pounds!)
we were blessed to know you and love you....rest in peace sweetheart, you will be sadly missed.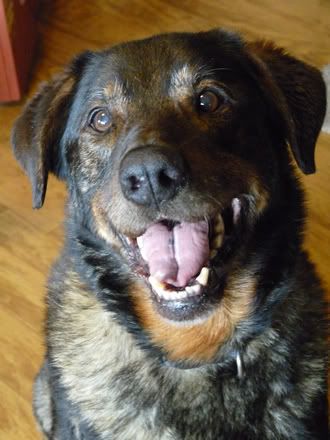 (sorry to re-post the same picture but it is my favorite one because he just looks so happy and beautiful)