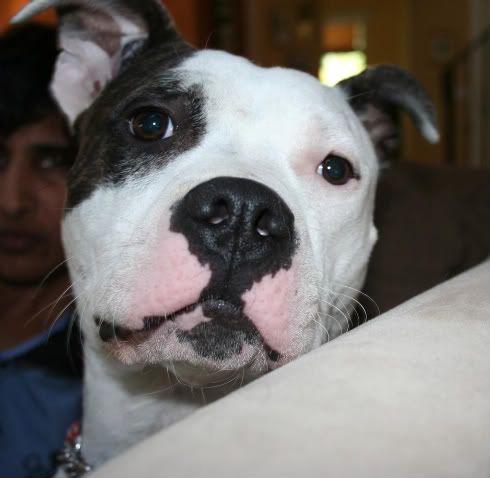 Screech ... who I now call Sceech because naming him Screech was self prophisizing. Sceech doesn't screech so much....now he just blubbers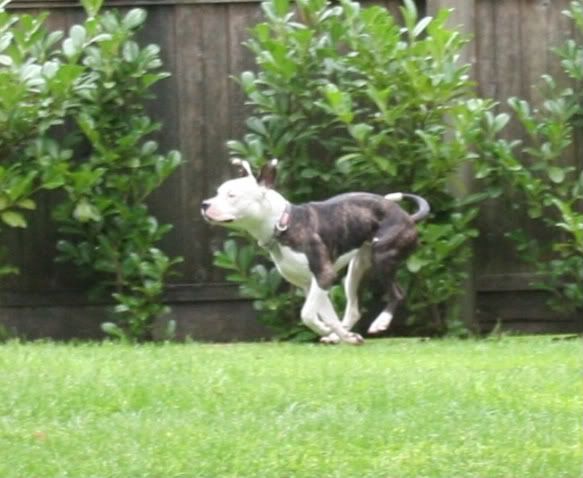 and gets the zoomies in the back yard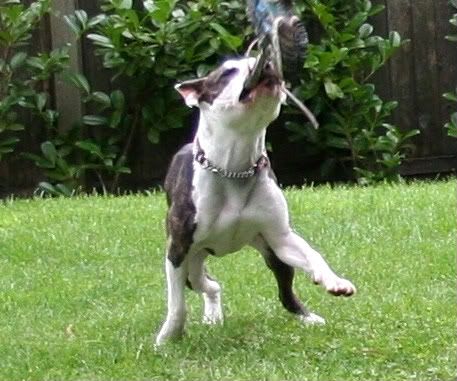 and only chews on human things like shoes (and sometimes kongs that he can rip apart in 1/2 day)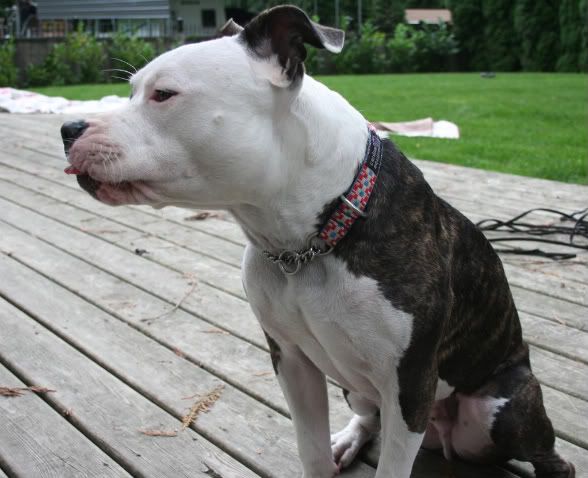 and makes funny faces.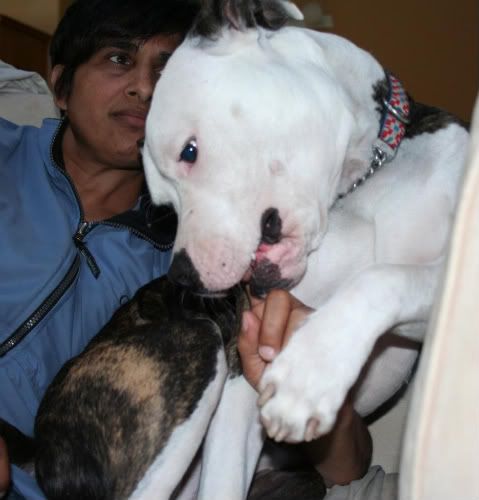 and because he is a pit-bull tries to eat people
Yesterday we received another email asking about whether Screech was up for adoption and even though there is 4 paragraphs written about Screech they are asking for more information. This is what I emailed about Screech and I am pretty sure I will never hear from the person again. We have had ove 25 enquiries on Screech -not a lot - but not a biddly amount and I no longer goof around with explaining his issues. Screech has only had one meet so far and two bails (without notice) Today was our second bail afte we drove out to Maple Ridge.
Screech is my foster dog and he is under the umbrella of bully buddies (as a favour to me) so an adoption application and contract will need to be filled out through this organization if you would like to pursue this further. Screech is still up for adoption. He has been on petfinder since Sept 13th 2009 and although he does get enquiries most of the enquiries are for people who want a social dog that they can let off leash and go to dog parks with. He is 19 to 20 months old now. As stated in his write up he can be very reactive on leash so much so that the second home returned him even though his reactivity was discussed at length with them. We are looking for someone who is not "embarrassed" by this behaviour and is capable of dealing with it. It must also be stressed that Screech lives with two dogs that are not interested in playing with him - they are also older than him so he takes his cues from them. He will not behave this way with a young dog looking for a playmate.
I am pointing out the 5 to 10 percent of the time that Screech is difficult because it is this behaviour that most people will not be able to live with. My sister and I live with him easily - with very little problems but we are used to difficult dogs since we foster a lot. We live with a lot of dogs and quietly expect proper dog behaviour from our animals and somehow manage to get it from them without resorting to "corrective" training. We made the mistake of having him go to two very nice families that were interested in the pit-bull breed but had no experience with the breed and therefore this time we are looking for a potential guardian that is familiar with the breed our has had a reactive dog before. Screech would be a perfect companion for someone who does not mind taking solitary walks (on leash) with him and wants a companion to sit next to him while watching TV. He is an extremely loving, goofy, and exuberant dog and this is what we love about him