Rescue Journal
when i said that words can lie..i missed something else...
Carol · Mar. 29, 2010
your words may mislead/misinform about someone else...but if read carefully, may in fact tell a great deal of truth about yourself.
here is a sad truth about most rescuers...we are generally angry. we are angry on behalf of the animals but we are mostly angry on behalf of ourselves. it could be because we resent the life we have to live..it could be because we are just angry people and rescue provided us with a born again venue to vent with a public podium.
we cannot hide certain things when we speak or when we write. we cannot hide this anger that eats us up inside. the more we indulge the verbally violent beast, the less control we have over it's mindless violence.
there are terrorists that blow up tall buildings and kill thousands of people and devastate the lives of a million more and there are terrorists that undermine and collapse the foundations of the work of others because their own work is not enough to keep them standing upright.
we are what we speak, we are who and how we speak. we need to be aware of this.
saints news....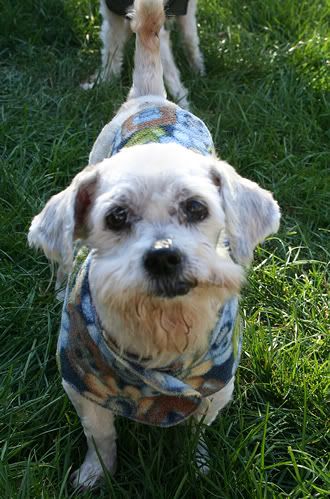 archie
i woke up to archie is the midst of a massive seizure at 2am. it was a long one with an extended recovery, poor little man. as soon as i leapt out of bed to him....joey was right with me. his little inborn nursing instincts were right there to try to assist archie. we are stopping his ivermectin and i will call the vet today but i think we are good now to just switch to advantage multi to clean up any remaining demodex mites. not sure if it is the meds or just archies extreme age..he is heading into his 18th year, any brain that old can misfire all on its own.
this morning i woke up to larry's version of singing..god larry honey, please never make that sound in public please. he is pretty cute first thing in the morning...he walks with his perky little to-to-to-to...to the front door, has a peek outside to see if it looks wet and cold. if there is any doubt at all, he lifts his little leg on the door itself and then to-to-to-toot back into the main house again.
larry the peeing wanna-be screaming rock star