that would be my friend Peluchi. we also call him the magic eraser dog. this is because he can get so absolutely filthy dirty and an hour later look like he just had a bath. i used to think there was something magical about his hair that just make dirt and crap fall off. i have since learned that the reason his gets so clean again is because he rubs and drops all that shit in my bed. today i caught that little dirty swamp rat, rolling around in the mud..i told him don't you dare get on my bed after that sludge fest but of course he did. i come in cold and wet from farting around outside and the first thing i have to do is change my bed which i just changed yesterday by the way....peluchi heard a few good choices of words while he tried desperately hard to get his perfect spot back on my bed once it was clean again.
Watch the transformation
It begins with rolling ... followed by frolicking in mud & gunk

& for good measure, a little leaf here and a little leaf there. Behold ... I am MOP HEAD (aka leaf head and swamp dog)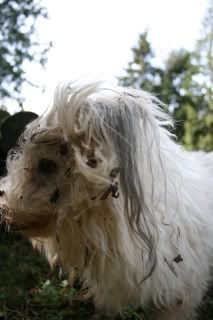 I will rule this 'er swamp ....


and when my fun is done ... I will erase my disguise on Carol's bed ...

peluchi wasn't the only swamp rat out there in the cold and pouring rain...the others were out there too. however...nothing is as pathetic looking as a sopping wet poodle. caspar sucked mo into warming him up in her coat..jerry is an ass so no one offerred him a warm body and coat to snuggle into. everytime i looked at him he said...are we done? can we go back inside? are you ready yet for bed? jerry is highly telepathic...he sends bed and me together signals all day long.
i have said it before, poodles are the most loyal of dogs...they hated being out in the rain. but there was no way on gods green earth that they were going back into the house if i was staying out there. misery likes company is their motto, so if i am wet and slogging around in the mud, so are they. except...caspar will take a free ride in a warm coat and keep his suffering to a minimum if he possibly can.
tyra who actually has a functioning brain was no where to be seen today..she knows two things really well...one is being wet and cold royally sucks and two... i will eventually come back into the house so she is perfectly happy to stay warm and dry (and raid the cat food bowls) while i am busy elsewhere.
sooooo..tomorrow is supposed to be a nicer and drier day....and we have decided to have a picnic day. everyone is welcome, just bring something to share. and don't worry about the dogs..i am de-frosting a ton of liver brownings so they will have plenty of snacks.
i am bringing tiger brownies and beer for the humans....mmmmm.