brody (the new cat with the prolapsed rectum) has been in the vets for the past couple of days because he hasn't pooped since he got here on sunday. today he went under a general and had his bowel cleaned out..he will come home tomorrow at the end of the day. hopefully he starts pooping on his own now.
sadie our now 17 yr old cat (one of the forgotten feline seizures) went into permanent foster care yesterday and apparently is making the adjustment to a real home, just fine.
Oh goody, I am *THIS happy (*measured by the length of my tongue)

squeakers and hymie will be 16 this year and have a great home in a week or so too...hopefully squeakers mouth will be cleared up by then.
As long as we're togther we are happy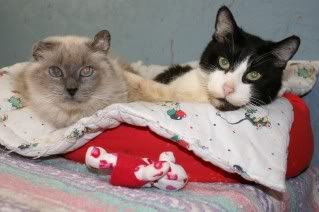 these three cats finding homes makes me very happy because all of them came to saints from very over crowded places...i think these will be their very first homes in a very (if ever) long time and while not near as bad as where they came from...we are overful here too!
and speaking of overful...saints welcomes 2 more newbies today...peanut is a very pissed off and very thin 15 year old cat surrendered to a shelter because the family sold their house and hadn't found a new place to live yet...with all of their stuff in storage and no home to hang their hats..peanut ended up in a shelter as a very poor adoptive prospect.
and saints also welcomes dukey...an 8 yr old unneutered miniature poodle who bites and has a mouthful of rotten teeth. he was surrendered to a shelter for chronic house peeing (neutering might have helped with that)...three strikes against him..rotten teeth, poor housetraining habits and biting for not very good reasons...i do think he is kind of sweet.
phoebe is a hag again today...she grabbed lola by her nose and wouldn't let go. i shoved her in her crate for an hour...but her evil mood continues cuz she just nailed caspar who was sitting by the door. needless to say the hag is again in her crate..i hope she is enjoying herself cuz she might be in there for awhile longer.
like most bully's..phoebe thinks she is perfectly fine as she is and everyone else has a the freaking problem.
stupid dog.
Oh really. I beg to differ, I am not the the hag. Mo is the hag 'cus she wouldn't give me the stick ...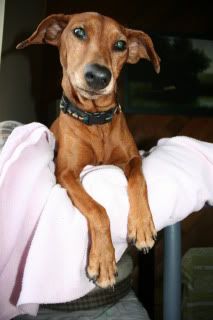 I present exhibit A, B, C, and D ... see told ya!She should be crated not ME ...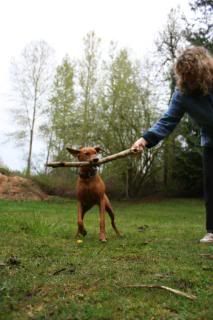 we discovered lice on lahanie yesterday during his shave...he did not have it last year when we shaved him so czar must have brought them in. so this weekend all of the horses get treated...thank god for mo cuz she konws what she is doing. and before anyone panics..equine lice according to the vets are species specific....altho since gilbert had them when he came in...i think we will treat the goats and the cows too just in case.
Lehanie was starting to look like a Carl look-a-like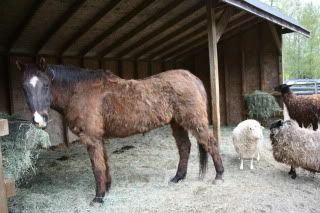 and he was none to thrilled with being shaved either ....

quiet is quiet without peace around...i think he looks sad and lonely.