dusty's leg is better, the swelling is going down but it did break open. she is in a cone now..one of the meanest things you can do to a blind dog is stick them in a cone....sorry babe, it is just for a few days.
AS if it wasn't bad enough that the diabetes made me blind and get poked twice a day ... but now THIS. SO UNFAIR

the new cat is here from the spca...her name is tiny. i think we might be too late for her..my gut says, she is at the very end of her road..i don't expect her to be here for more than a couple of days.

she is literally tiny and frail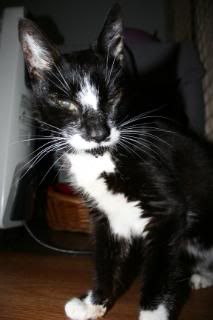 chewie's leg looks great tonight, we started the mazuka honey this morning. hopefully it keeps ticking along, healing as well as it has.

the baths help a lot
the telus volunteers today were great..they washed fences and windows and pulled weeds in the pouring rain. they helped shift stuff around in the shop and even bathed some of the dogs. i hope they enjoyed their volunteer time here.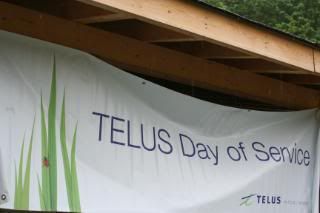 organizing shop and barn cleaning
Washing fences in the rain and bathing dogs


the Kids liked the animals the best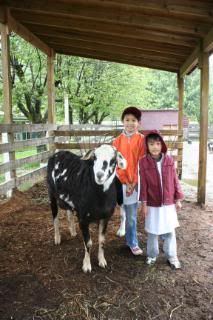 i had an email from one of the vets at emerg about a 15 year old sick cat they they did not want to have to euthanize..i had to say no. we just have too many sick ones right now for me to even consider another...we don't have the time and we don't have the space and we don't have the money to help any more right now.
it was the right thing to do but i still feel like shit.
jenn and i had a movie night with dusty and lucky and reggie...the house guys are choked so i better go suck up and make them forget i ignored them for most of the evening.

Hey, can I come up on the bed again? ... Not with your hide intact