Animal Updates
anyway...i am going to stop thinking about money and think about someone else who came into my mind today.
Carol · Jun. 23, 2010
after i settled the mp building to bed, i sat with dusty and lucky for a bit and watched some of the video that jenn made for the fundraiser last year.
most of those animals are gone now...cole, felix, max, bruce, clara, jewel, kissy and grammy...so many more on that video have passed away since then.
but it was spritely who got me. seeing her up on that screen and as always, she took my breath away. and i remembered looking at her every single day for years when she was alive and feeling her absolute beauty steal the breath right out of my chest.
every day...every single day when i looked at her, the first thing i always thought was ...god, you are so beautiful.

i miss that..i miss her. i miss her coppery shining in the sun. i miss her huge, liquid brown eyes looking down on me.
i miss yelling at her when i caught her running across the field, and i miss the touch and feel and smell of her.
spritely was an incredible horse...it was like god took all of the most exquisite beauty from the whole entire world and put it all together inside and out in one magnificent copper-colored spritely mare. if it wasn't for that just one really bad leg..she was perfection in every way.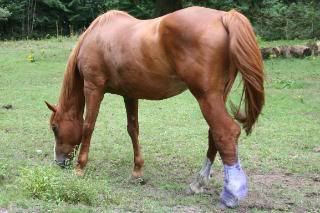 i am glad jenn made that video...i can re-visit spritely and jewel and all of the others who have gone away. but it hurts me too..i see so closely what i have lost in these past 12 months.
god gives you an amazing gift of someone like spritely...but only for a little while...and then he takes her back again...
i hope there really is a god, and i hope there really is a heaven too...cuz if i could just spend an eternity just looking at her again...i would be really happy.