1. Event Info, Evite & Poster
Here is the link to the facebook event page . If you would like a poster/evite emailed to you or more infomation you can email me: jennhine@hotmail.com
Here is the poster and I have just sent it to webmaster Nicole, who will add it to the event page on the website soon.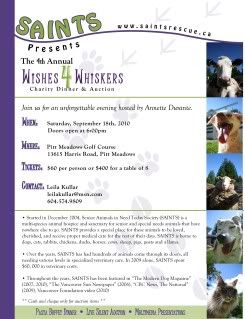 2. Table Sponsorship
To the generous donors, supporters, & blog-readers, I will be finalizing the tables, animals, and donors the beginning of August. Here is the latest table summary. If you have not already, you can pay via pay pal (just indicate specifically what is for) or please send your cheques to: SAINTS 15570 58A AVE Surrey BC, V3S 4N8. Please remember that I need table names too!!!
3. Auction Items
If you or someone you know would like to donate something for the event auction please email me: jennhine@hotmail.com. Things that do really well include: "Experience Packages" like weekend getaways, tours, or lessons and Gift Card to places with multiple locations in the Lowermainland or that can be used online

Merry and I are GAGA over the GALA!!!