there is a big discussion on one of the message boards about how little society values small companion animals like rabbits.
i have to say that the small animal rescue folks are right. it is not that the majority of the human race wishes them ill..it is just that not too many folks get their warm and fuzzies from bunnies..dogs, cats are more interesting to invest the effort to get to know and develop relationships with.
maple has been parapalgic for many years. the past few months, her weakness has been getting worse. for months now, she has required almost daily baths..it is fly season, she is always wet or damp, either from urine, or from her baths. today we found maggots on her. it was time to let her go, so i did.

i went looking for maple when she was a baby. marilla was getting close to the end of her life and i was desperate for sweet and shy and horribly traumatized little clover to not be left alone. he needed marilla...she nutured him and cared for him, she told him all was well and safe and loving in his world.
i called one of the small animal rescues and said i needed a young bunny to be clover's very good friend. they sent out maple, she was crippled from a birth injury and about 3 months old.
clover was terrified of her. marilla was not. she instantly saw a little baby bunny who needed some mothering. and she started to mother her. clover still needed marilla too and the only way he could have it was to accept maple too.
they became a family. marilla died a few weeks later and maple took over the mothering of clover and he did ok with marilla's loss.
we lost clover a couple of years ago..he was getting old. and because of first marilla and then maple and later the others that joined them..he never felt afraid or alone.
when sidney and puff and spiffy joined maple and clover, maple mothered all of them too. marilla had taught her well.

and maple became the pivotal center of that rabbit pen. everyone loved her, everyone had felt her kindness and compassion surround them.
these last few months as maple's disability took over and brought her low...her family was there for her. they cared for her, they cuddled her, they surrounded her in the same kindness and compassion that she had once shared with all of them.

Sidney cuddling Maple and Puff & Spiffy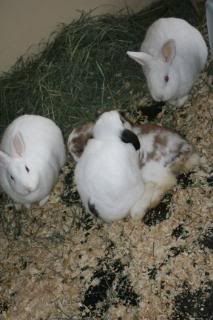 maple was my last tie to marilla, an extraordinary rabbit..i am so very sad to see her go.
and i know that puff and spiffy and sidney are really going to feel her loss too.
rest in peace maple, you were an extraordinary rabbit too.