Animal Updates
there is a side to saints that most folks will never see...
Carol · Jul. 14, 2010
they won't see it because they are not the one here from 6pm til 8am (plus more on my days off) 365 days a year. they are not the ones to feed every night and take everyone out for a pee, they do not sleep with them and carry on inane conversations with them, and act silly with them and not feel sorry for them every day of the year.
most folks are too dignified and cool to sing in a loud and audible, high pitched voice..."YOSHI-MON" like a fool...every time they enter the room. but then yoshi actually plays with me and i have never seen him play with anyone else. i see the pretty damn funny side of him not the pathetic old dog....and yoshi likes to play and act silly, he thinks it is fun.

Bonjour cheri, Je m'appelle Yoshi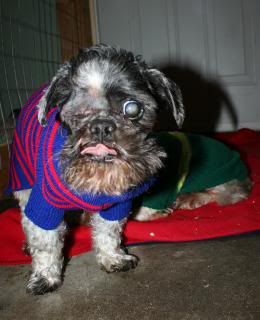 doris is not much of a player tho but she does like to bark while i get yoshi going...she thinks because we are all happy anyway, we should go out in the yard for a pee....that is what makes doris happy.
but folks also do not get to see a lot of the stuff that scares me...like tonight...no one saw edith looking quiet and depressed and i know she is not well tonight.
no one saw ellie go to bed and start acting weird....i still am not sure what she was doing but it scared me enough to see it twice to think she might be starting to seizure.
maybe neither of them had enough water to drink today...the tub is full but maybe they did not come up to it to drink...anyway i am glad the vet is coming to see chewie tomorrow (who is also acting pretty weird) so i can get him to look at them and tell what he thinks.
some of the stuff is just feel good shit..like last night finding amos had dumped out his water and being able to fix it for him so he couldn't do it again. or finding billy with his water bottle flat on the floor (the holder is lost)...so i got something to tie it up with so he could have water whenever he wants.
and that is why i like to see each area and all of that areas animals every night..i can fix what got messed up, i can give whatever was forgotten..i can see who is well and who might not be and i can go to sleep at night knowing who is well, who is not, who ate their dinner and who did not..who was happy enough for a bit of game and who might be reaching the end of their days.
i mostly see the best of the animals because they mostly see the best of me...i have a cheerful, gently teasing, sense of odd humour and that makes them feel pretty good. i joke with them and i fondly call them bad names, (like moron, doorknob, dolt, mushroom, fatty boy, flat head, blind bat from hell, oaf, ox, klutzoid, toothless wonder, psychopath (griffin always wags his nose of a tail when i call him this name!), or in yoshi-mon's case..the one eyed little wingnut, he wags his tail at this one and hops up and down.....and don't ask me why they like it but they do...maybe they don't understand the words that i say...just the real joy in seeing them that comes out in my voice....and that makes them happy to see me too.
i have my bad moments when i yell at them in anger..but sadly that usually has little to do with them and more to do with me and my day.
but on the whole when it is just them and me...we are pretty damn happy....i like them and they like me and this is a very good thing...most of them would be happier in a real home, but if i can get a smile out of them at the end of the day...i guess that is ok... (for now at least)
and this is why no one will ever see what i do, every night of the year,,because from 5 pm til 8 the next morning..it is just me and them finishing off our day together.
gideon let me kiss his face three times tonight .....i am usually lucky if he lets me do it even once.....and i know he was just cheerfully humoring me (he thinks i am a very silly and childish human) but it was still pretty cool....so thank you gideon for letting me act like a fool....three times in a row!