i also completely forgot to introduce our other new guy. i was originally waiting on a name for him but since he hasn't gotten one yet for sure..i will just introduce him as my current favorite name until mo tells me different (she got naming dibbs this time around)
his name was zorba which sorry just does not roll off the tongue in a sing song way very well. so i am calling him ziggy for now....he actually does zig when he runs! ziggy was up for euth with his original family because of an apparently chronic and incurable cold. he was taken in by someone else to save his life but she did not have room to keep him.
ziggy is a one year old mini donkey. we will look at his nasal discharge and get him gelded, the vets are coming on tuesday. i had what appeared to be a second great application on amos but still needs a homecheck and interview so i will follow up with that for him too.

Ziggy fell in love with Giddeon and then was smitting with the big eyed Percy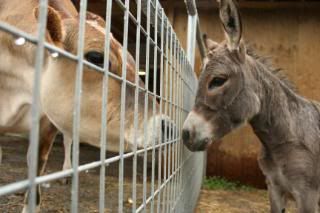 sometimes it rains little poodles, sometimes it rains big and hairy dogs, sometimes it rains elderly and sick senior cats, and i guess sometimes it rains little mini donkeys as well.
he is a cute little bugger..i want to keep him but mo said that i can't.