sammy got fat. i watched her waddle past me on the way back into the house...hmmm...definitely not a bone rack any more. maybe i better stop giving her own bowl of canned food when i do the diabetics...bet that is going to piss her off.
she is now a pudgy little mosquito.

new incoming...saints welcomes pixie. Animal Control drove her about three hours to get her here...she is old, blind, has rotten teeth, scoliosis of the spine and needs an eye out asap. she is a tiny, long haired chihauhua...very cute. i feel badly that we are going to be eye and tooth sucking again....it just seems such a not nice way to welcome her to saints....but it is necessary.
the staff that brought her were great people....they could not keep their eyes and hands off the animals..i knew they wanted a tour to meet everyone. i almost was hesitant...what if they don't see and feel what we see and feel here?...can i deal with this yet again so soon?
but what?..i am going to make them drive 6 hours round trip to save a little old dog and not give them a tour just because i am a bit afraid of something i can't even name?...judgement? condemnation?....no...maybe disillusionment or disappointment because we are what we are, and maybe they were hoping for more?
anyway...they got it i think...lot's of homeless old souls, lot's of endless work to do, but a good and happy place for their precious little girl to be.
i am glad i sucked my fear up and gave them the full tour....i bet they were glad too because you could see so plainly that they really do adore animals...ALL kinds!
and pixie will be absolutely fine once everyone is done with the whole new butt sniffing thing.
it was a really good day all around for me today...i finished my nursing week, with my soul filled up and content with some pretty amazing stories that i was told. i like home care nursing so much because i have the chance to hear the stories of my clients lives....some from 70 or 80 or 90 years ago...some are stories that are happening today, right now. i am left feeling humbled at the end of the day....i sometimes forget how truly beautiful humans really are. today i was blessed again to remember.
i just glanced over at suzie stretched out in a nap with her belly distended....i am not feeding her much canned food, just a spoonful here and there for a treat...how come she is so fat????

Carol: Oh My. What a big round belly you have Suzie.
Suzie: The better for you to rub and play with me with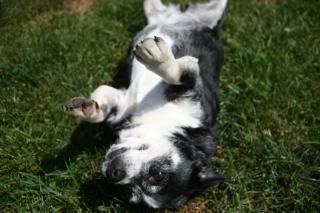 apparently we are an eye sucking, tooth plucking, fat producing rescue...sigh...awww shit man...esther just ran past me (yes she runs to get the cat poop in the litter box first)...and she is fat now too.

Hey I am pleasantly plump and what I mean by that is: I am pleased with my plumpness. Cookie?

we all seem to suck at weight control rescue around here.