Animal Updates
max, mandy and harold are off to sam's for grooming tomorrow.
Carol · Aug. 17, 2010
i am a bit worried about that. max and mandy seem to break something, somewhere in a heart beat and harold panics occasionally if he is unsure. so i will worry until i come home for lunch and find them at home... handsome(or pretty) and shaved right down. renee told me today that james bond is slowing down on his eating again so i went and bought him some more of that special canned food that he likes, hopefully that will jump start him again...he is almost 20 years old now.

Max & Mandy are scardey cat but James Bond certainly is NOT!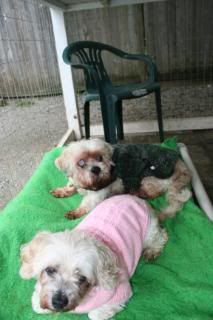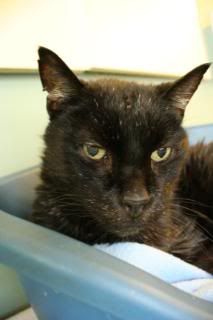 monty is way better since he had his last convenia and steriod injection...his mouth is feeling good finally again. these chronic mouth cats are THE most difficult cats for me to manage...it is a constant battle..year after year. eddy was taken to the vets for euth'ing...what? 3 or 4 years ago? we had all of his teeth out but he still struggles with periodic bouts of mouth problems. it totally sucks.
maude is again worrying me...she came in from the pound in the late fall of 2006...she was confirmed by her family to be 14 years old back then..so that means that this year she is pushing 18 yrs old now...how long can a small but spunky husky mix live? i am still not over tyra yet..i couldn't face losing maude but she is starting to ,look so old to me that she is freaking me out.

I am 18 going on 8 but sometimes I don't seem to know which way is up or down

note to all barnyard volunteers and ball throwers for dogs...i have bought ziggy one of those smaller versions of our big purple barn ball (ziggy's new ball is blue!)...i know it will be hard between al and roxy but can we try to keep it just for ziggy to play with. the dogs chew off the handles (morons) and then ziggy won't be able to carry it. even the little one cost $16.95 so i would rather the handle not get chewed off cuz i won't be replacing it very often....and ziggy does want his very own ball.
i like to read the sermon title signs outside of churches when i pass by...you know the ones with the simple words of wisdom.....today i saw a great one along the highway, outside of a small strip mall...
it said...
"i am not a NAG..i am a motivational speaker!"
i like it....it is true!

Here is a picture of Arthur whom as I recall was a big sweety. My condolences to his family. Thankyou for giving him a great home for the past 6 years