i came home tonight (missed lunch so didn't get home then)..and had totally forgotten it was max, mandy and harold's grooming day. (thx again sam and kathy...everyone looks totally great!!!)
anyway...i forgot til i walked thru the gate...then i laughed out loud. there was harold and bibi...my 2 best, once were, fuzzy buddies...side by side..both shaved naked as an african lion with only a mane and tail tuft left, one golden, like the sun, one black as midnight and both sprouting their 2 ocean blue bandanas.
good lord if i could just get them both to sit still like a stone at the bottom of the driveway, one on each side and take a photo..they would look like the twin day and night guardians of saints....way too cute!
anyway...the two of them out in the cat run waiting for me was a too funny sight to come home to.

Who are you? No, who are YOU ? I am ME. I am BIBI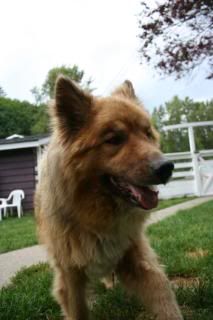 Saturday we will SEE how much Harold looks like the new BIBI

i wanted to say something to those of you who took the time to share a thoughtful comment on why you read the saints blog....
in many ways, this blog is a way for me to connect to others out there. i really don't have time when i am up and doing to make many rescue connections out in the real world anymore except with the staff and volunteers (who just might be as delusional and nutz as i am...)....soooo...because of my isolation from others outside of saints..i sometimes feel very alone in the "real" world...
and when you say things like....
Our shelter is very small in comparison, all of our dogs are in foster care, but we have our share of ups and downs, politics, nay-sayers, and criticism....It's nice to have someplace to go where I can read about all the things that the animals do, laugh, cry, rejoice, rant, and stand in indignation and disbelief at what outsiders say about rescue.
or...
So many times Carol's words feel like they were taken directly from inside my mind..... In the end, whether I am laughing or crying from what has been written, I feel that I am not alone. I know there are others who understand from experience my feelings of joy, humor, frustration and heartbreak when it comes to caring for other people's castoffs.
or...
over the past 2 years, I have become "attached" (via the 'net) to the animals who live at SAINTS and their goings-on. I root for their recoveries and I weep when I read their eulogies.
after reading several stories about the animals at SAINTS I was hooked. What keeps me coming back is the stories and the pictures(oh, those lovely pictures with their wonderful captions)of the animals at SAINTS. Sometimes those stories and pictures make me laugh, sometimes they make me cry and always they make my heart full of wonder and happiness.
or many of the others from this post or others somewhere, esp. the ones where you share some story you lived, some insightful lesson learned...some new perspective to think about sometimes too.......(i cannot search and cut and copy them all...why??? cuz i am lazy!)....but they are there, easily accessible for me to read thru and i do.
so just some examples of what you give back to me....sometimes some really sound advice, sometimes someone to laugh or cry with, but mostly that real sense of connection i am seeking...that security inside that i am not really alone..that maybe i am not so crazy, if others sometimes feel what i sometimes feel too.
thank you.