his neck is hurting him again.i gave him his meds early and a double dose of tramadol and he seems better this afternoon.

miranda has some weird kind of weakness and loss of balance thing happening in her hind end...i have never seen this with the feLV's before so i am not sure what is happening with her.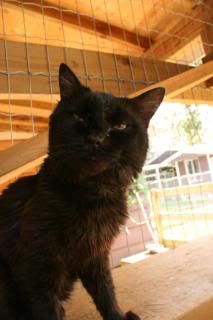 bibi's and perdy's hind ends are totally sucking now..perdy is falling several times a day and bibi cannot get up on his own when he is laying on straight lino. i do put out beds and carpets for him to lay on which offer better footing and gripping when he does try to get up. but he pretty much lays everywhere except for these easier spots so now he has to lay there and call to me to come and help him up.
i can't get the fireplace in the computer room going...it is cold in here..the weather has for sure now taken on its fall and winter feel...this sucks because i think a roaring gas fire would help all of us old and crippled ones feel better on a chilly and rainy sunday.
it was freaking wet today,,,i worked KO near to death by noon and then continued on my own til 2. i am pretty sure andy is second guessing wanting to work here cuz i worked him really hard too. and at the end of the day..i can now barely move, this is not good cuz i still have barn/mp bedtime to do. i just took some muscle relaxants and i will give them til 4pm to kick in and then i need to get everyone to bed asap so i can stop and just crash and burn.
it occurs to me that in trying to save a thousand dollars and not hire lyle just to come and push that sand and gravel around with his bobcat..i may very well cripple myself and anyone else stupid enough to let me crippled them too...i think i should just make the call and get it done quickly and painlessly..plus i know lyle will get it done right.
i can lift and push (barely) 12 shovelfuls of gravel in a wheelbarrow...today i filled, pushed and dumped probably 30 loads of heavy shit (plus what andy and KO filled, pushed and dumped) and we are not even remotely close to being anywhere done...i am back to work for the week now..the rainy, wet, muddy weather is here...those barn guys need clean and dry outside shelters to spend their days in.
the barn buddies had fun at the barn today despite the horrible weather...but of course they got soaking wet, filthy dirty and then came back into the house again...so much for brenda's and lynne's spotlessly clean house.
joy is in season again so she has percy upset with her wanting something that he can't give. ziggy has a ton of purulent crud pouring out of his nose again, gideon is looking so very good...the weight is now starting to fly back on and he is finally looking healthy again...for a 35 year old horse.
for all of the trauma of trying to decide about what was the best thing to do for lahanie and czar..i have to admit that today i do feel a sense of relief that i no longer have to decide anymore. i think gideon deserves not to have his perception of life upset at this late stage in his game....now this horse i completely and totally adore...he has always always been such a true gentleman with me, he has taught me about the very best of the hearts of good horses....this senior white knight in shining armour should not need to worry about ripples in his happy pond.
ok..hot cup of tea to jump start the muscle relaxents and then back out in that sopping wet barnyard for the final lap before i totally crash for today.