This Saturday only rain or shine Helga is hosting a Yard sale. Come down to Wren Street in Mission (just off Lougheed). Buying and eating goodies never felt so good--all proceeds to benefits SAINTS. I will be there and I might even bring a certain long and low someone and/or a bouncy screechy someone (can you guess who?).
If Helga can raise over $1,000 for SAINTS I will treat her and Carol to a lunch or dinner of their choice. So come help them get a free meal on ME! If she makes $2,000 I will throw in dessert too. And my mom loves dessert.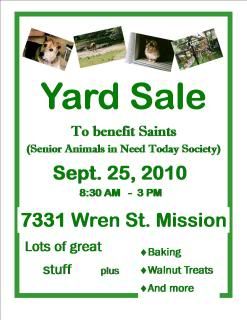 Helga has assured me that there will be a total smorgasbord of stuff, with something for every taste. I begged her for some specifics and here is what she gave me :) (some great stuff) so come early with some room in your trunk

Health Rider Exercise machine
Tooled brass firewood box
Stationery and craft stuff - paper &envelopes, cards, scrapbooking stickers, labels, needlepoint kits, ready-to-paint plaster nativity set etc.
Bicycle rack for car - new
Foot stool,
Wing chair,
Fold-up lounge chair,
Folding canvas chair in bag
Queen size bedding ensemble - Duvet, pillow shams, decorator pillows -new,
All kinds of nice decorator pillows
Pictures and picture frames
Ornaments - including a number of Otagiri porcelain owls
Vases and other glass items - including some pinwheel cut glass
Kitchen stuff - stainless steel bowls, Corningware French White casserole, 2 Insert slow cooker (new), bunch of as seen on TV kitchen gadgets,
coffee mugs, cannisters etc.
Shark sewing machine, Eatons Viking sewing machine
Doggy stuff - leashes, coats, feed dishes
Lots of costume jewelry including a number of new Angel Friendship lapel pins
Some very nice new wallets and a bunch of embroidered Chinese bags
Backpacks, handbags, roll-along travel case
4 new skim boards
One wooden wine rack and one wooden wine bottle case
Lots of hair dryers, crimpers and straighteners , hair clips, nail polish etc.
Baskets and ornamental hat boxes
Lots of magazines, books and jigsaw puzzles
Some CDs and DVDs
Hand tools, laser levels, binoculars, rain ponchos, a clock,
Some clothing including one brand new very dressy large size embroidered 100% silk jacket
Stuffies, Barbie Doll, Japanese doll, Coca Cola cannisters, neckties, Japanese robe, wind chimes
** Plus local walnuts both plain roasted and praline style and a bit of home baking. Yummy snack while you shop!