the vet was out to de-worm the horses, check out gideon, ziggy, chewie, edith and gilbert....gideon looks and feels GREAT..he has put on a bunch of weight, was trotting around and had a good roll..yay gideon!
ziggy's lungs are still crap so nothing new there but the vet says he looks really good too...yay ziggy pop!
that last little bit of chewie's wound is not healing so the vet said ok to knocking him out and trying to suture it together..it is small enough that it may finally heal with a bit of surgical help so that is the newest plan.
edith is acting all weird again and i think she is hallucinating too..she stares at the oddest things with her head at some weird angle for the longest time..anyway whatever she is doing, it is not normal behavior for her. she got another thiamine injection...whenever she acts weird, we give her some thiamine and then she is fine for awhile.
and now with the wetter weather back again..gilbert is just starting with another sore foot. we caught this one early so the vet just trimmed his hoof and gave him an antibiotic injection. we need to start the weekly foot care for him again now that fall is upon us and winter is coming up soon.

other stuff....
ziggy is freaking adorable...he was not happy about being stuck in the riding ring almost all on his own. so he decided to look as forlorn and adorable as he could by picking up the hose and dragging it to the barn gate, and then he dragged it back to the upper field gate, and then he dragged it back to the barn gate...i couldn't stand his pathetic overload so i finally let him down to the lower pasture with the cows.

Little self-actualizing brat--but very cute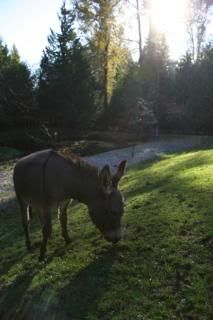 bonita is currently sacked out on the couch covered in green horse poop...she spent today rolling and rolling around. unlike some of the other saints here...bonita is not a magic eraser kind of dog. while shit falls off most of our guys (or they rub it off on the beds and clean linens)...for some reason it sticks to bonita and stays on...she looks like some kind of poverty stricken homeless dirty street dog..but i will say that today she was happier than any other dog covered in shit! she LOVES being a farm dog...but i did yell at her a couple of times because she was starting to chase chewie and that pissed me off....rolling in poop is fine to do...chasing goats is not.
the chi folks came out and met little pixie dust..they liked her a lot. so they will network and hopefully help us to find her the perfect home. i gave them the tour..they were really nice people who love ALL animals not just tiny little chi's. i enjoyed their visit and i know they will work hard to find a great home for the butterfly dog.

i will wait for jenn to post about the garage sale..surfice it to say that helga did a phenomenol job and i sent esther along to work at the saints table with jenn..apparently she also did a very good job and was a perfect representative for the saints crippled crew.