Events
Yard Sale Guru well surpasses the $1000 challenge!!
Jenn · Sep. 26, 2010
Friday night I spent the night in the hideaway suite with Frodo--who was quite the purring, head-butting, wet nose in my face monster throughout the night. But HE was happy so that was good. I got up bright and early and loaded the SAINTS promotional materials (signs, pamphlets--which we are almost out of by the way--etc.) into my car. After much consideration Carol chose Esther, who is adoptable and very much looking for a forever home, to accompany me to the Saturday Yard Sale.

I hope I get paid in cookies for this gig

Esther was definitely the right choice. She was relaxed, well behaved and kept herself busy with people watching and cookie eating. She did bark a few times--not for cookies--but when other dogs arrived on scene. I don't speak dog, so I could not tell if she was saying--"hey I don't know you, come over here I want to meet you" OR "go away this is my yard now." Anyways people really liked her and she got many compliments about what a "beautiful" dog she was.

She even saw some familiar faces too (here is Mo saying hi)

The Yard Sale doGs were shinning down on us. First, my camera magically decided to work again, yeah! Secondly, the weather co-operated. It has been calling for rain for several weeks--and lo and behold it was blue skies and 25 degrees--perfect weather for a Yard Sale. Many people who came had heard about it in the paper where the Chilliwack/Abbotsford/Langley Today paper donated ads in each of their papers and online. We give them, and particularly Mike Archer, a BIG Thank you for their continued support of SAINTS!!!
So the weather was great and the people came--lots of great people!!

Happy balloons on a happy day and some of Helga's beautiful flowers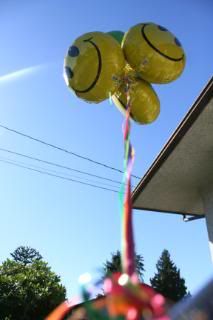 Helga's home baked goods sold out fairly early--the walnuts being the first to go. But there was also baked banana bread and various other loaves. There were cookies too.

There were lots of goodies--at a fair price.

There were lots of great kids stuff that went quick--mostly donated by Erin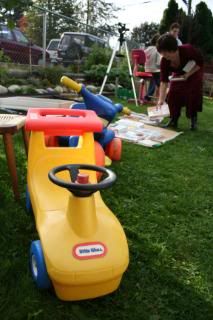 There was stuff outside and inside

There were manly tools and girly teddy bear baskets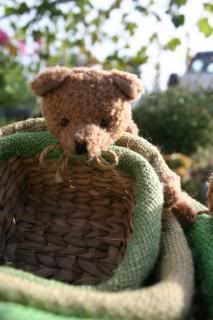 Helga was selling kitties ...

not her own ... these ornamental kitties

But I did meet her kitties who were a little put off by being confined for the entire day! But they are committed to the cause and so were very gracious in opening their castle to us ...

Former saint, Milly was looking very good and happy

There were a few people who came by with their dogs.
Tannis came by with two of her Poms

Most people came to support SAINTS and would refuse change or make an extra donation! Everyone also assured me that they were voting for SAINTS online in both the Pepsi Challenge and the Pet Finder Challenge.
Most of the large items sold, so that was good.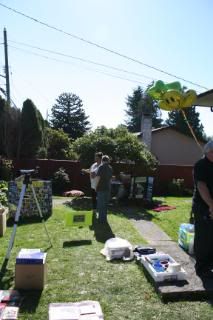 Incredibly the Yard Sale brought in over $1400!!! All I can say is " WOW!"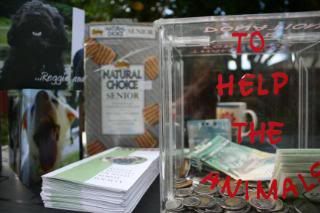 AND a very big thank you to everyone who contributed by donating or buying items. But a special kudos should be given to Helga and her two amazing helpers: Brenda and Alika--Yard Salers Extraordinaire.

Yard sales are lot of work!!! Good thing Helga is a Yard Sale Guru--many people complimented on how well run and organized the sale was. She well surpassed the $1000 challenge and so I will definately be taking her and Carol out for lunch next Saturday. Well done.
*On another postive note, the Golf for Pets project has come to an end and managed to raise over $1700 for SAINTS-- so yeah and thank you again! So with these and the Wishes 4 Whiskers Gala--September has been a good month for SAINTS (and our vets )
Mom, now you have a reason to sing this song-- "Oh Happy day" :)