I am really starting to get into the Christmas spirit this year. Yesterday at my work there was coffee, eggnog, christmas cookies, and the best part of all--there were real Carollers all dressed up like there were from the 1800s. It was pretty neat. To top it all off, this year I have decided I NEED to have a real tree this year--its been along time.
So I just want to remind you about 2 upcoming events that are a must when it comes to Christmas: (1) Santa Pet Pictures and (2) a Christmas Concert **both to benefit SAINTS too**
On Thursday night (Tomorrow-December 6) get into the mood with some fantastic Holiday music at the Hennessey Dining Lounge, 53 West Broadway, Vancouver (Map). .

And on Saturday take your pet to see SANTA and get a picture (hopefully they are not naughty like Pheobe because she is only getting coal this year).

I would like to especially thank Kathy O. for being the little christmas elf of SAINTS by decorating with these gorgeous bowed cedar branches!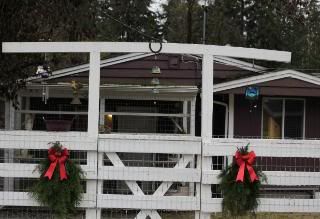 and look at this perfect Christmas present that Brenda gave Carol. It is a nightie and it reads ...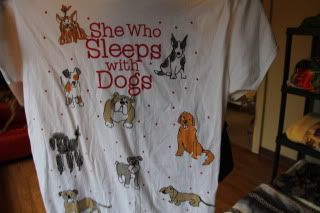 haha too funny.