Here is my PLOG (picture blog) ... from the picture I snapped at SAINTS this weekend. But first I just want to let people know that the Shelter Challenge is happening again, and I know a lot of you, including Carol are voting/contested out. On the other hand, some of you may be like me and feigning for a chance to click the mouse each morning with the morning coffee to start our day. So I thought I would just let you know that if you want to (no pressure) you could vote each day for S.A.I.N.T.S. in the current Shelter Challenge. We usually get top 2 in Canada which gives SAINTS $1000 from Pet Finders. Here is the link: http://www.theanimalrescuesite.com/clickToGive/shelterchallenge.faces?siteId=3. Search: S.A.I.N.T.S. Canada BC Mission and click vote.
Ok back to nice photos. I am currently reading a photo book for Dummies. Ha ya. Literally though I am. Its called: Digital Photography Workbook For Dummies. And I am actually learning real stuff about photography. Its amazing. So I hope it is paying off on my photos.
More snow descended on SAINTS this weekend, making it very pretty but pretty hard work, especially for those outside.

The snow was pretty but cold. I said to the girls outside, "How do you handle being out here all day. It's freezing?" in which they replied something about warming up after shoveling the first wheel barrow of animal shit ... haha.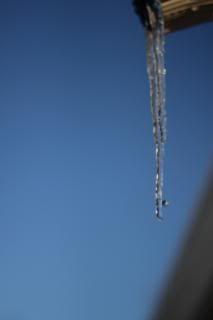 But the outside, the animals who were having their shit scooped, were snug and warm in their full winter coats.

Even the dogs enjoyed their snowy walk

Here Mo carries Tina Fey and Suzie so that they don't have to touch the cold wet white stuff to their delicate paws
Now because it was cold I was busy dressing up doggies in coats again of course.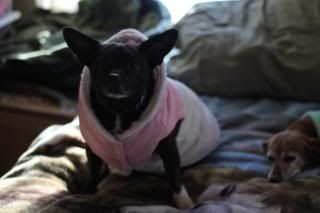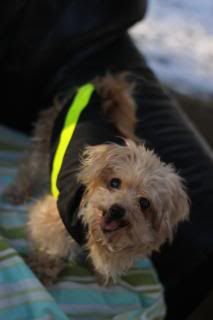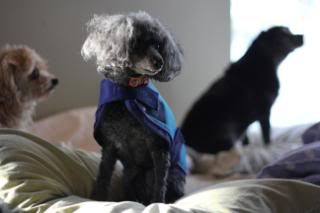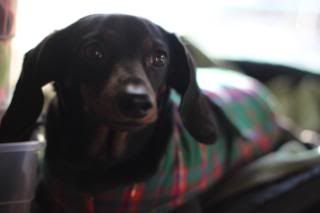 Pheobe LOOKED good in hew new coat from Tammy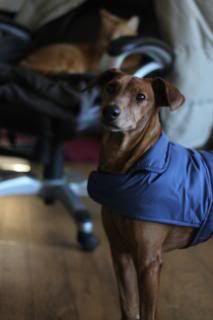 But she was behaving, badly (nothing new there).
Molly got Pheobe's sweater that was too tight for pheobe after Brenda and I worked up the courage together to get it off her. and it looks and fit Molly great!
Now good dogs get treats ... well to be honest they ALL get treats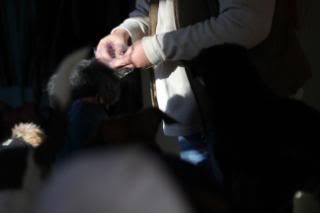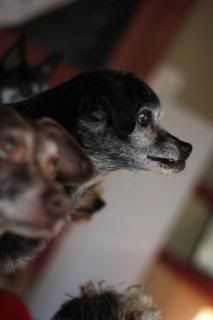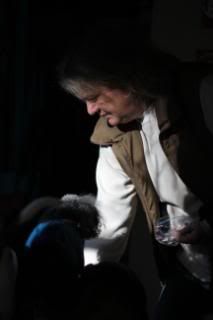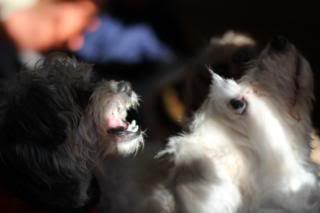 Once a week Yoshi get bathed because he has skin issues and he hates it! Each Sunday Ashley (a vet tech that now volunteers at SAINTS) is the women for the job and she makes him look so puffy and fluffy and cute when he is done. But more importantly it helps keep his skin issues in check. So it is a necessary evil Yoshi we are sorry honey we love you.

Cats love to snooze and hang in their little huts.

Here is Pete in his little home

This home is too little for lil big bug though

Here Olivia traverses walls of the rabbit enclosures to get to me for pets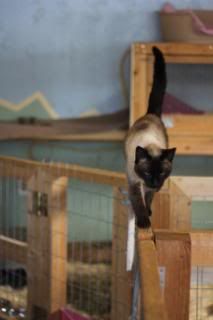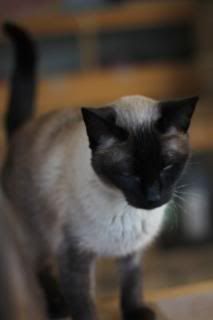 Below the rabbits are oblivious ... and happily snuggling their loved one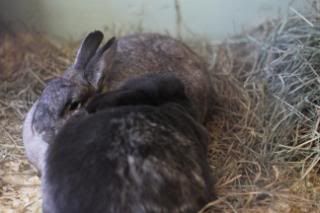 Colleen was here and brought a mustache toy for the dogs to play with. The idea is that they stick the ball in their mouth an d then it looks like they are wearing a mustache .. but nobody was biting ...

Paluchie had zero interest in the toy

The Cats spent the day laying around looking content but mildly bored.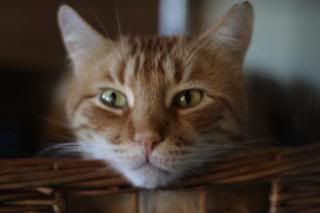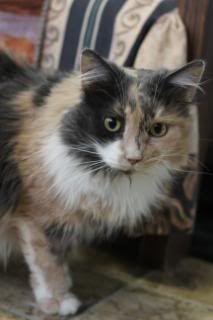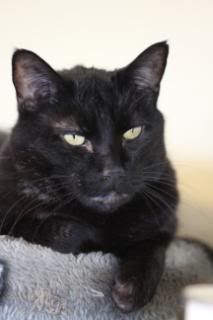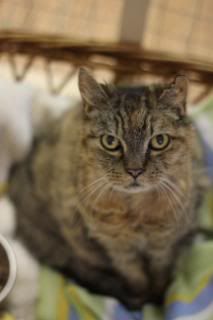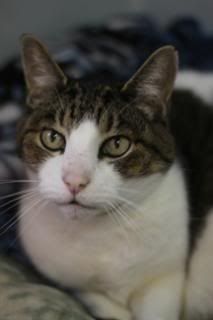 Except I have no idea how Stripe and Cliff can be confortable up high on the fridge and the shelf. I suppose cats are not scared of heights and some of us are.

SAINTS newest edition (I don'r have a pic of tucker yet because he was at the vets). Mini Me. The little one that was gonna get nuked because of a mamory tumor. She is the cutest little thing and most definately Cutie of the week.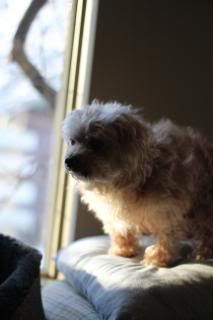 Now I want to end by asking your opinion on something. So my mom says to me on the field run on sunday, "what do you think about Bambi becoming a Hine?" I replied "what? THAT Bambi?" (pointing to uggs running around like a happy little walrus with a her tongue draging in the snow looking like a snow ball at this point. She said "yes. I adore her." I said, "She is no Hine." She said "Yes she is" and it was left at that :)

So do YOU think Bambi 1 is a HINE? and should become Maud and Daphne's adopted sister?
and if non then who else might be a good candidate?

perhaps Prudence?

Or larry?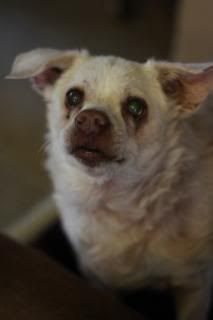 or Merry

Hey Sheila there is an idea for the Pub night to replace the save Carol's hair contest. It could be that Carol must adopt pheobe if we raise X number of dollars :)