Rescue Journal
important notice here re: saints year end
Carol · Jan. 31, 2011
a few people have told me they don't like mini-me's name. are you kidding me? that name suits her to a "T"...she is definitely mini and she is so all about "ME....ME....ME!"...she is currently having a freaking fit cuz i dared to get out of bed before SHE was ready.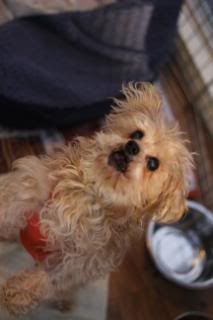 i have to say that last night... except for laying on top of the little dogs like they don't even exist....mystic was almost a perfect bed buddy.....she picked her perfect sleeping spot and stayed there til she woke up in the morning.

2 more shifts then 5 days off and i am pretty sure i counted this set of days off right! i have some organizational things i want to get done...end of year stuff and some storage stuff...and i think the weather is going to be good for a change too...i am really looking foreward to this!
NOTE TO ALL (sheila, maggie and anyone else who has one....).....WE NEED TAX RECEIPT BOOKS FROM 2010 BACK HERE FOR THE ACCOUNTANTS ASAP PLEASE AND THANK YOU.