Events
Phoebe Rose Hine Pub Night was an absolute success thanks to you
Jenn · Mar. 27, 2011
At the pub night we also did a ballot for everyone to fill out that asked them to choose to: (1) Save Carol from Phoebe OR (2) Save Phoebe from Carol. Who needs saving from who?
That is the question :) Although I designed the question to be a riddle which apparently generated many heated discussions as to what the choices could possibly mean. There was no right or wrong answer. Either way Carol was going to adopt Phoebe no matter what we raised or what people voted. But just for curiosity sake I will tell you that more people voted to "Save Phoebe from Carol" mmm interesting ... I think they meant they wanted Carol to stop dissing phoebe.
So its official. Phoebe is now my canine sister. Oh yay! (insert sarcasm here). So I ventured out to see her today and snap a family portrait ...

and she was snarling and kicking Carol in the face! Is that the thanks Carol gets for adopting you and taking you to McDonald's for 2 mcmuffins thsi morning ??? What a bratty sister eh?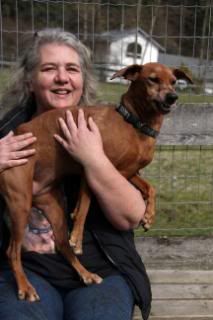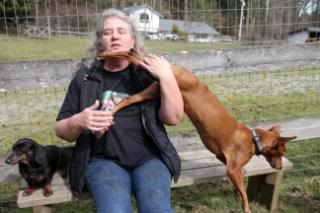 Just kidding she was actually a very good girl today (as Tammy mentioned like 15 times today) In the above picture Bibi (out of frame) is tormenting her by barking his head off at her and that is whom she is snarling at.
Here you can see she did actually look pretty for the picture with her new mom and we have officially made Tammy her doG mother, which I have decided means if anything happens to Carol, makes Tammy responsible for the red devil. I mean the red devil HINE ;)

But seriously I am all smiles today because our Pub Night was a huge success again this year. I am just amazed by the generosity of our donors and volunteers. I want to especially thank all of the volunteers who really are the unsung heroes--donating their weekends to help care for the animals, helping collect money and silent auction donations for each event ... and last night when they arrived they were right there willing to help with anything I asked of them. I feel so blessed that we, no contest, have the best volunteers out there. Thank you to everyone that came too because we had a GREAT turn out. Drum roll ... we raised $14,700 (which is well above last year's Pub Night which was just over $10,000). Hooray!
Nicole was kind enough to take some pictures of the event because I did not take a single one. Thank you Nicole M.