might be i am just over tired from an animal emotional day. or maybe i am sad because it is simply a very sad world for animals dependent upon humans.
harry is a great cat...super friendly, super nice...he is old and beat up and will probably never get a home again. but when you pick him up, he velcro's right in...this is a cat who knows humans can be wonderful....so why is he homeless tonight?
garfield was looking a bit deer in the head-lightish tonight...so i gave him some of that 2 buck a tiny can chicken stuff....and suddenly life seemed much better and hopeful to him. over he came, purring and rubbing and chatting to me. yes he was saying...excuse me i would like out of this pen...but at least he was talking to me and stating his need.
minnie is just simply lovely...perky, bright...a little bit needy. happy when i am with her...worried if i am not. she is going to make a very great barn dog and she is going to be a favorite around here...i also think once she settles..she might be a bit of an occasional hag where the other dogs are concerned. at 14 yrs of age, she was the unhappy victim of a bitter divorce. the spca emergency night folks have had to deal with her several times over the past couple of weeks. nicole knew immediately who she was because she had heard about her in the emergency clinic. she said the officer who has been helping her lately is going to be really happy that minnie landed safely at saints.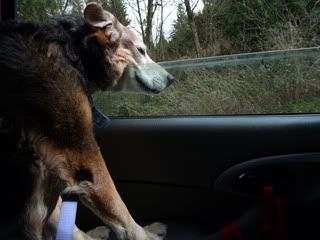 minnie is a bit of an odd car rider!
and then there is dixie...how can a 7 yr old racing stable horse look older and more frail than our 35 yr old gideon? i think my sadness is coming from her...she doesn't have much joy in her. on the fourth try, i found a blanket that fits her. i took her some cut up apples this evening too which she really enjoyed. what is interesting about her is, i think dixie already recognises that i am someone somehow important to her. funny how she has figured that out from two brief visits during moving her around.
tomorrow i will buy her a new halter that fits...the one she has left a big dent in her nose. and i will pick her up her own grooming kit...i think i can handle grooming her...right now there is not very much horse there to groom....she is just a little girl who feels used up and i want to see her feeling full again..inside and out.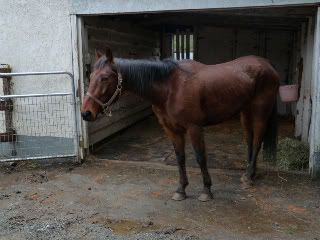 dixie is beautiful!
i had a nice but short visit with janice tonight...dixie is being boarded right across the road from hearts-on-noses pig sanctuary...janice came over to see her with me and helped me get her blanket on. i like seeing janice once in awhile cuz she totally gets the whole rescue heart in turmoil rigamaroll.