SAINTS is holding a Raffle fundraiser--the winner gets 10 days and 9 nights accommodations in a newly renovated ocean-view Maui Condo.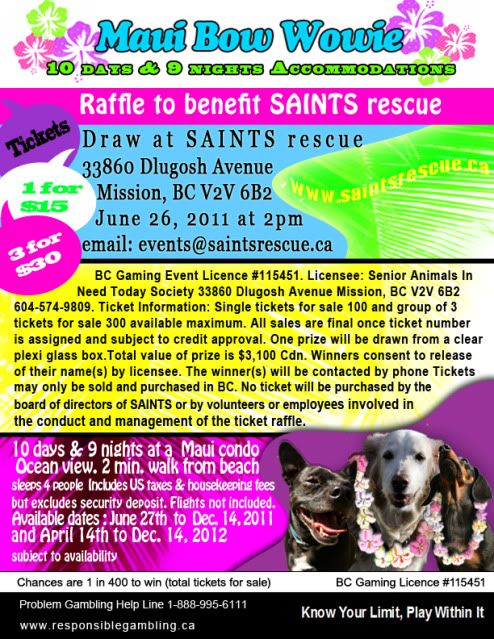 Details about the Raffle:

Tickets are now being sold right up until the final draw date, which is the last day of our open house at 2pm June 26 (Sunday). There are 100 tickets available at $15 each and there are 300 tickets available to be purchased as sets of 3 for $30. Tickets cannot be purchased by residents outside of BC or by members of SAINTS' board of directors (or myself and Sheila as we are directly invloved in the selling of the tickets).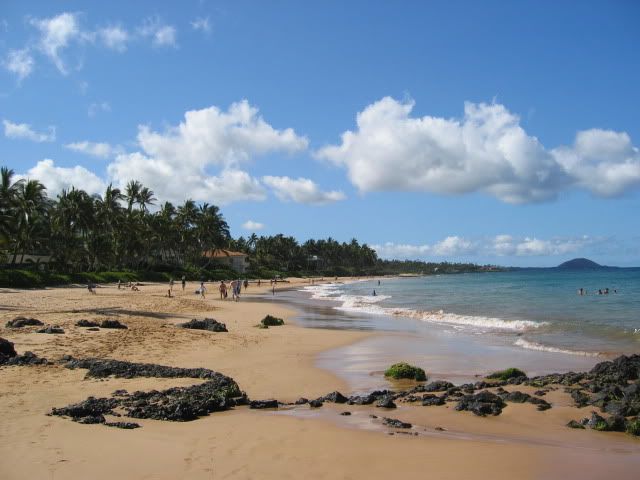 Details about the Prize:
Donated by an anonymous and very generous saints supporter, the value is $3,100 cnd and includes 10 days and 9 nights accommodations in a Maui condo that sleeps 4. House keeping fees and taxes are included but damage deposit is not included nor flights/travel. Travel dates are subject to availability between June 27 to Dec 14, 2011 and April 14 to Dec 14, 2012.
The condo is located south of Kihei Town on SW Maui, Wailea Ekahi, on 34 acres of mature, landscaped gardens and is the lowest density condominium development on Maui. There are four pools on the property. The property fronts directly onto 1/2 mile long Keawakapu Beach, voted one of America's best beaches by 'Dr. Beach'. The Wailea Resort area is home to golf and tennis clubs, luxury hotels, restaurants and shopping (The Shops At Wailea).
The condo (non-smoking), has central air conditioning, sleeps four adults and has two separate bath/dressing rooms. All rooms (except the bathrooms), have a 180 degree west facing ocean view, and the sunsets from the lanai are spectacular. The unit is located on the second floor of a two storey building, and is reached by a flight of stairs. From the condo to the beach is an approximate 2.5 minute stroll through the gardens.
**tickets are limited so buy your tickets early. Please email events@saintsresuce.ca for more info.

BC gaming license# 115451 www.bcresponsiblegambling.ca