Animal Updates
Happy Tails: Sugar & Spot and the ones we adopt
Jenn · May 31, 2011
May was a great month for saints adoptions! Thanks to our new adoption coordinator Dawn yay. 7 saints (5 dogs and 2 cats) were adopted by great homes in the month of May: Tucker, Milton, Tyke, Jake, Sherlock, and Suzie and Chica.
We are thrilled they have found their final forever homes and here is a happy tail update from 2 great dogs who are both blind, former saints, and have found wonderful, loving homes that adore and spoil them: Spot and Sugar.

Sugar.
Sugar (AKA Wilma) has been doing great, she fits in perfectly and completes our family. She's very happy spending her days cuddling with her sister Missy, waiting for delicious wet food time, lounging on the couch that she's declared her own, sunbathing, getting belly rubs and barking for no apparent reason (like a true SAINTS dog!) She really is the sweetest, most gentle dog ever. She never stops smiling, even when my 3 crazy cats decide to play a game taking turns jumping on her! I don't know what we did without her and I'm so grateful she found her way to us
-Zoe

Smiles & Belly rubs
Spot.
Hi Carol,
I've been meaning to write to you for some time to tell you how Spot is doing. I'm happy to say it is all good news!
As you know, Spot is a very sweet boy! While our other JRTs are still weary of him leaping directly on top of them, there are also a lot of peaceful and playful moments between them.
Spot's very well socialized with other animals, setting a good example for his two sisters. While other animals are no problem, he has developed a habit of barking at people who come into our house which makes for noisy social occasions.
Spot has rebuilt his network of trust. When he first came to us he was leery of vets which was a change from what you experienced. We think he came away from a painful disease and surgery wondering who he could trust. Now, he's comfortable with people who have to poke and prod once in a while; once again he assumes no harm will come to him.
Spot's health is great. He loves walking on leash. One would think indoors would feel like a safer place to a little blind dog but he seems to know we won't let him bump into anything and that affords him a certain freedom on his walks. The last couple of nights (after lots of walks and play time on the lawn) Spot had some very active dreams! I like to think he's dreaming about being out in a field, chasing other dogs around, having fun, without a care in the world.
Spot has turned out to be quite a comedian – he is forever putting himself in a funny place or silly position which makes us laugh. When I tell people about Spot sitting with his nose two inches from a wall waiting for a treat, many people feel sorry for him. We don't feel sorry for him because he doesn't feel sorry for himself. He's a happy little Jack and he's undoubtedly figured out that those silly things bring a lot of joy and laughter to our home, not to mention kind words and gentle pets (and treats) to Spot.
Spot is a real people dog. Wherever we are, he finds us and plunks himself down just to be near. We joke that it's too bad Spot couldn't be even more help with the cooking, cleaning and laundry.
Spot's won our hearts and we thank you once again for bringing Spot into our lives!
Lynne & Scott
P.S. We are still trying to figure out what's breeds are in this guy as there is something else in there. We found a picture of a Jack Russell, Aussie that looks a lot like Spot. Whatever he is, we love him!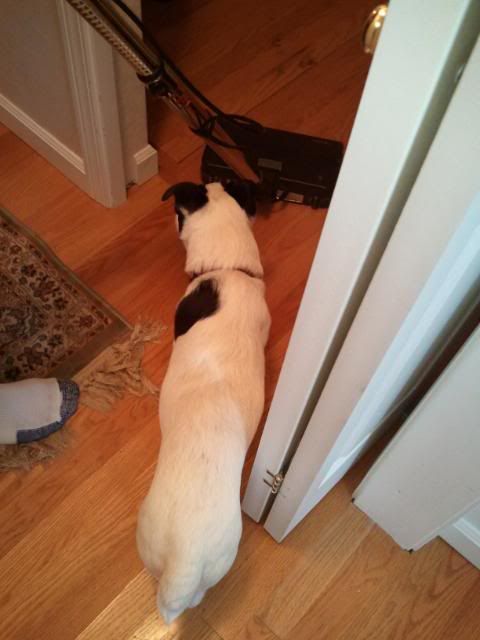 Hanging with good friends
seniors make great pets and have a lot of life and love left in them. ADPOPT a senior and help them have a happy ending to their life.
email: adopt@saintsrescue.ca