1000 SAINTS
2 weeks ago we launched our 1000 SAINTS campaign. This is very exciting as Maggie has been working on this for a year. It is a wonderful idea: 1000 animal lovers helping to give senior animals a happy ending to their lives. Its $25 a month and very easy to sign up for, visit www.1000saints.ca for more information. Help make this wonderful dream come true! You can directly help by making a monthly contribution to help with the vet care of our saints.
SAINTS Annual Open House
The open house is less then a month away, please mark your calenders and invite your friends and family to come have a tour of this extraordinary multi-species animal sactuary. Kids always get a kick out of meeting our Pink Princess.
June 25 and 26 11-3pm. Here is the fantastic event poster and the facebook event

Maui Bow Wowie Raffle
This is a an amazing prize of 10 days and 9 nights in a beautiful Maui Codo. the 3 for $30 tickets are sold out but there are still single tickets for $15. Please email events@saintsrescue.ca to buy tickets.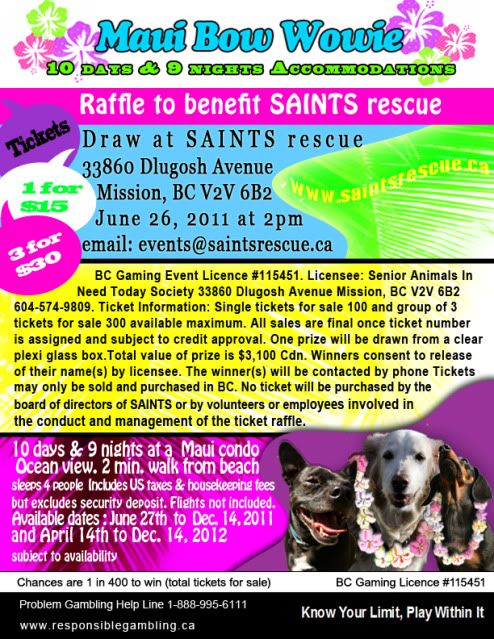 SAINTS cash/coin donation boxes @ 9 BC Liquor stores
Good news, BC liquor stores had kindly allowed saints to have cash/coin donation boxes at 9 of their BC liquor stores: South side Aldergrove, Langley, Walnut Grove, Fort Langley, Abbotsford Village, Abbotsford, Mission, Maple Ridge & Pitt Meadows.
We thank them and Julie very much for setting this up again this year, I believe last year Pitt Meadows location raised the most and this year's stanley cup series I think will help us raise even more.

Pet Finder's Shelter Challenge
Vote for: S.A.I.N.T.S. Mission BC Canada, everyday until June 19th. If SAINTS can keep the top CANADA spot we will receieve a $1000 grant.
Vote here: http://www.theanimalrescuesite.com/clickToGive/shelterchallenge.faces?siteId=3