i am changing their name from bed buddies to bed bullies..there is a hooligan group guarding the edge of the bed and screaming at any who they think have no right to try to get on..like al...like fergie...and today, they started on daph.

the bullies include...tina..hilda..peluchi..joey..and the worst of the worst, the wickedest witch of the west...mini-me, the cone head dog.

the bad dogs are starting to really piss me off.
the spray bottle is taking up permanent residence next to my bed..the problem is that mystic sometimes rips it off.
mystie has a new nickname too..she is my pom-pom girl. that tail of hers can swing, sway, curl every which way when she is happy which is pretty much all of the time. mystie is a good dog...except when she steals the spray bottle, then she is a tiny bit bad too.

everyone who comes here who is possibly interested in adopting a cat..i send to meet sebastion. and i just do not get it. he is without a doubt the sweetest, gentlest, kindest, most affectionate cat in the world and no one is ever interested in him. tonight he was laying on his chair and the second he saw me the rumbling purr began. i gave him a quick kiss on the head as i reached for a knocked over bed, i set the bed back up on the shelf and turned around and there he was...purring away...belly up on the floor at my feet, all four legs stretched out and spread to the four winds, inviting me to love him some more.
how can anyone possibly resist such a lovely cat? i just don't get it at all.
shit..i am thinking of adopting him myself, just so no one can ever steal him away! sebastion is not a dog and he is not ever bad either, but i have been pondering why no one adopts him and i have decided it is because humans are stupid.

jack seems fully recovered when i just checked on him, i will check him thru out the night. if he is going to be a seizuring dog, i should move him over to the house so i can keep a really close eye on him. but not tonight..he has had a tough day and i want him to relax, de-stress and chill for a bit. jack is not a bad dog either, but he did have a pretty rough day.

the cherry pit is again pissed off...she had pizza for lunch (and just ate the toppings and cheese) but she wants pizza again. i said no way jose...shepherds pie is somewhat healthier..at least it has protein so forget seconds on pizza again today babe.
why did a 2 pound dog turn into such a spoiled and picky eater???? because she is so little and tiny and bitchy and frail so every freaking time she wants something i cave.
if cherry was bigger she would be a bad dog, but she is so small, she slides into cute....and she works the cute part pretty well too.

too cute to be bad?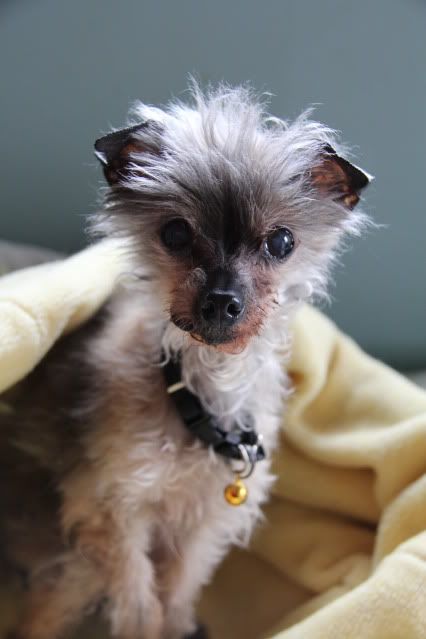 what a whole post about bad dogs and no Phoebe mentioned ... weird. Has ellie started flying?