I want to congratulate Carol for surpassing the 75,000 unique (and over 2 million total) hits mark on her blog. That is a great milestone and a noteworthy achievement for the founder and director of the "little farm" in mission. In celebration I am reposting the link here to the CBC feature from a few years ago where I think Carol is just so articulate and it is really my favorite video so far about SAINTS although I am sure Shelley's video that will premier at this year's Wishes 4 Whiskers Gala will easily become my new favorite.
On Carol's very first blog post August 4, 2006 she wrote:

The intent of this Blog is to allow those who are interested, the opportunity to share with us the joys, the sorrows, the laughter and the tears of rescue. You can journey with us thru our triumphs, witness our confusion when we lose our way, and share our grief when we lose a special friend. SAINTS is about real life, real hope, real fear and alot of faith. Most importantly, SAINTS is about the animals. Each time one of our animals touches a heart or a soul, they have purpose and value. And that is really what SAINTS is all about. Thank you for joining us.
Here is a great photo from 2 weekends ago of Carol with Mini Me, Theya and Jerry.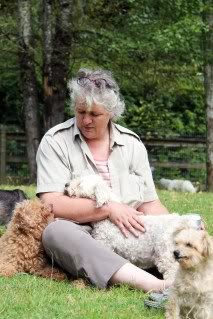 Since founding Senior Animals In Need Today Society (SAINTS) in December of 2004, Carol has helped rescue over 450 animals, their journeys have been brought to hundreds of readers every day on the blog: their first days in their new lives at SAINTS, their struggles and triumphs, their happy tails when they are adopted, and their final days as well. Each one of the saints alumni past and present are part of the fabric of saints--I think Carol said that in a post somewhere.
And I also want to thank all of the readers for reading and going on this journey with us--YOU are part of the fabric of this blog.