Hey its Tuesday and you might have noticed that there is no "Take Me Home Tuesday" animal feature. That is because due to time constraints, I am changing it a monthly feature called "Monthly Match-ups" so stay tuned for the September one.
I did not want to leave you with nothing for today so I am posting a potpourri of recent happy tails sent to me ...
Here is an update on 2 former saints kittens. They had terrible ring worm and were part of a hording/cruelty seizure--many of you may recall the Forgotten Feline bust. Their mom and siblings came to saints and were all treated and then adopted out into loving homes.
Stella and Colby were adopted into separate homes in the same apartment and get to hang out and visit each other often. Stella is now known as Edie (aka Dirty Butter). Her mom says that she is a really sweet cat with some serious "tude." Apparently she whips her brother into shape, no problem. Colby is not known as Georgie and is also quite the character. His family describes him as "a big gainly, suckyboy with a lot of bossy attitude. In other words, he's perfect"

Sebastian was adopted out 2 weeks ago to my brother and sister in law. He is doing really well and loves Annabelle their 14 month old daughter. He is getting lots of love and attention. Their other cat Lily however seems to have a bee in her bonnet about the new family addition but seems to getting less hissy by the day. I visited Sebastian on the day his first day in his new home and he seemed relaxed and happy ... purring up a storm and visiting the food bowl regularly.

I think Sebastian might need a bigger bed haha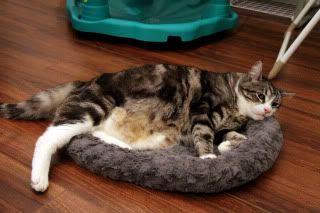 And the most recent adoption was by one of our volunteers, Carol Anne, who already has a number of former saints. She has taken on Sweetie (aka meanie) and we are are grateful for it. Apparently sweetie has already made friends :)