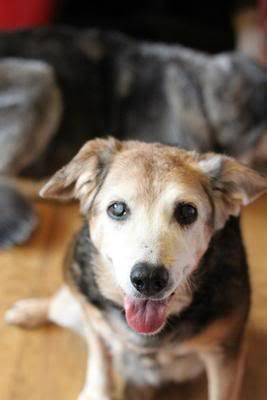 the vet said it was her kidneys that finally gave out on her. we knew back last april that her kidney's were toast, but minnie just kept trucking along and didn't seem to notice.
she had 3/4's of a sausage mcmuffin on the way into the vets. she did not want the very last bit but did enjoy what she had.
i think both she and i are ok with the ending of her life today..she wasn't having fun anymore and she finally knew that she was old and sick.
i will really miss her, her funny little toast face the most. man, she could move her ass from one side of the room, right to my feet in the blink of an eye if she thought food might be happening. and she was so intent as she stared at me while sending..."i want some!" signals that i couldn't deny.
minnie pearl at times with the other animals was a complete and total hag...BUT as far as people went..she was always incredibly sweet, kind and gentle...(except... if your fingers accidently got in the way of her cookies..then you better be reaching for a bandaid!)
anyway...i am going to miss her, she made me laugh, she gave me an occasional headache (and a sore finger or two...)... but... i really liked having her here...minnie pearl was not only incredibly lovely, she was a lot of fun!
rest in peace minnie pearl... you were a very special girl.