the blind little guy who got tossed out of the truck at a tim hortons and whose eyes both had to be removed?
see spot now...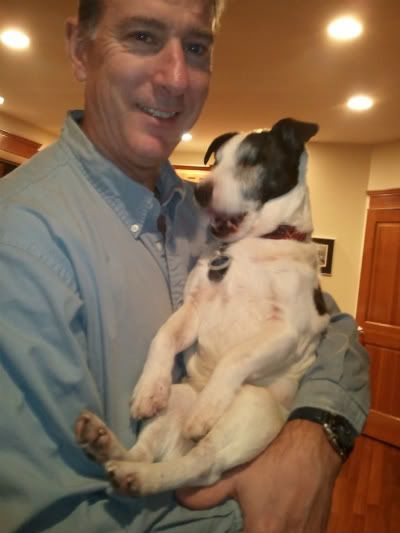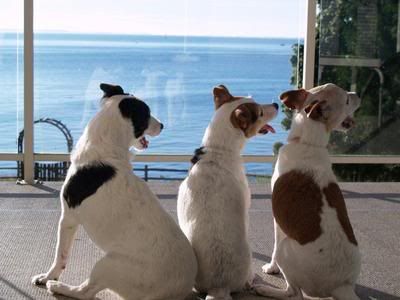 Hi Carol,
It's been a few months, so I wanted to give you an update on Spot.
I'm happy to report that Spot continues to be very well!
Last year we moved to a new house in the same area. We were a little concerned about how all three dogs would adjust (our first two, since they had spent their entire lives in our other house) and Spot, because of his blindness. Aside from all the dogs having some insecurity for the first month, everyone soon got into a routine and found their comfort zone again. Spot adjusted surprisingly quickly given that he needed to remap his whole world, including going from a straight staircase to one that takes a 180 degree turn in the middle. Overall, our new house may be a little better "fit" for a blind dog since it's more open but it was still pretty amazing to see how quickly he mastered his new surroundings.
Spot had his annual cardiology checkup in the summer and continues to show only a small progression of his condition over the last couple years. We were ecstatic at this news. Spot has continued to struggle with itching. After many dermatologist visits and medication trials, we gave up on the western medicine in this regard. Instead, Spot's been seeing a DVM who specializes in accupunture, diet and Chinese herbs. While not "cured," his itching is much better. His tolerance for accupuncture is admirable.
Spot has a newly discovered (and unexpected) favorite activity. We recently discovered he loves to run when we took him to a soccer field. He must sense that the ground is even and consistent and he hears the other dogs running around having fun. It is a joy to see him run since he typically travels with a measured gait to avoid crashes. Check out this video of him on Facebook: https://www.facebook.com/#!/photo.php?v=296704207042654&set=vb.100001092325084&type=2&theater. Feel free to invite any of your staff at SAINTS or your blog followers to friend Spot (FB moniker: Spotor Motor). He is an active social networker.
Spot continues to be a big pizza fan! It's amazing how a relatively short amount of time at SAINTS having pepperoni pizza parties has stuck with him!
Attached are a few of our favorite pictures of Spot this year, including the one I just took of Spot saying "Hi" to Scott who was just getting home from work.
We'll continue to stay in touch and keep you updated on Spot.
Scratches to all the furry (and non-furry) friends at SAINTS.
-Lynne & Scott