Its that time of year again ... the SAINTS March Pub Night. The past two years have focused on us tormenting Carol. In 2009 there was the Save Carol's Hair Pub Night and Last year there was the Adopt Phoebe Pub Night where we worked to raising $10K to have Carol adopt the red whirling devil.
This year it is about the SAINTS volunteers in the AMAZING RAISE!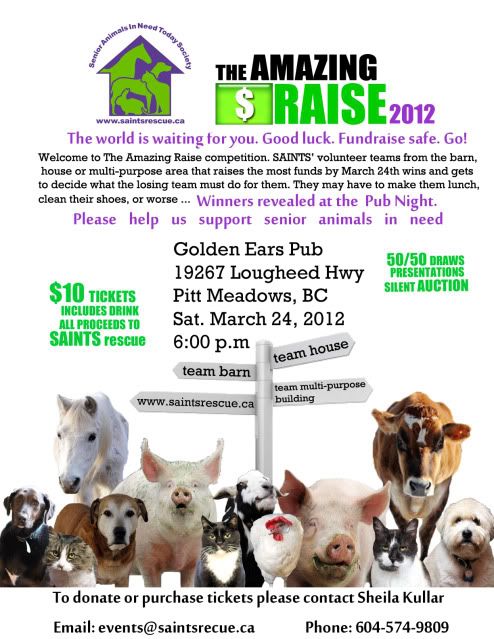 He he. That's right, the SAINTS AMAZING RAISE! Help support senior animals in need. Collecting pledges (tax reciepts given for donations over $25). Pub Night March 24th at Golden Ears Pub in Pitt Meadows. I hope you can attend and/or make pledge (details below) .
We are creating three volunteer/animal area teams: (1) House (2) Barn (3) Multi-purpose building. Volunteers will be competing to raise as much money in donation pledges as they can until March 24th for their respective team. The winning team will be announced at the Pub Night and gets to decide what the volunteers from the losing team have to do for them ... could be they have to make them lunch, or wash their shoes, or worse! Blog readers and SAINTS supporters can and are certainly encourage to contribute to one of the team's (perhaps the area their favorite saint or volunteer resides). You can make a pledge through Pay Pal (just note what team it is for: house, barn, multi-purpose area) or make a donation by dropping it off to SAINTS or mailing a cheque to Sheila Kullar (just email events@saintsrescue.ca for an address). Only donations of $25.00 or more will recieve a tax reciept. I also encourage people to make suggestions for what the losing volunteer team should have to do.
Warning to volunteers: Carol is threatening that if the volunteers do not raise $10K then each volunteer has to take a turn being Carol for a day ... (i.e. at 24hrs at SAINTS). She has kindly offered up her spot with the bed buddies and will re-located to the ensuite.

Ready, set, RAISE!
The Pub Night is Saturday, March 24, 2012 at the Golden Ears Pub in Pitt Meadows and the fun starts at 6pm.
There will be a silent auction, 50/50 draws, presentations, and room full of animal lovers. We are also looking for silent auction items and to sell tickets for the Pub Night. Tickets are $10 each and include a free drink (all proceed directly to SAINTS). To make a donation or purchase tickets please contact Sheila Kullar (email: events@saintsrescue.ca). You can also drop donations off to and purchase tickets at SAINTS or purchase tickets through
Pay Pal
and we will mail them to you (just note that it is for a pub night ticket).
Facebook Event Page: https://www.facebook.com/events/107200072739086/