There are less than two-weeks until the The SAINTS AMAZING RAISE March pub night fundraising event. Tickets sales are going really well there are only 21 tickets left so get your tickets quick! (email: events@saintsrescue.ca to purchase your tickets).
Our pledges are not going as well as our ticket sales or pledges from last year. We were hoping to raise a nice even $10,000 and this would help SAINTS pay off some outstanding bills--why is caring for senior animals so darn expensive?
Anyways, it is a close race right now between our three competing animal areas. The SAINTS volunteers of the winning area will get to decide what the volunteers from the losing area will have to do for them.
Here are the current standings and totals: Barn total $645; MP room total $660; Main house total $642
We need your help! Blog readers and saints supporters can donate to their favorite animal area and I will be telling you why to support each area.
Today I will tell you why you should pledge to the Multi-purpose Building
The Multi-purpose building is a multi animal building mostly catered towards the cats and a few dogs that need a quieter more calm environment than the main house. The multi-purpose building also has a rabbit area, a medical area, a large cat area with an outside run, and a separate area for the FeLV cats.
The MP building is long-term home for Dusty, a senior Shepard cross who is blind and incontinent due to diabetes. Dusty is on a high dose of insulin twice a day and her insulin alone costs $600 per month. Dusty seems to only get along with other blind dogs and she is easily made anxious by too much noise and activity. The MP building is a quiet place where she feels safe. She has a friend that lives with her, Lucky. Dusty likes Lucky because she is also blind. Lucky is a senior golden retriever with stomach cancer, and an autoimmune disease called pemphigus follicus which causes her to break out in blood blisters on her nose. Lots of meds, love and treats makes Lucky feel pretty good, but sometimes she can gets diarrhea and I think the volunteers and Carol deserve some extra pledges for cleaning that up without complaint! Lucky's special food and meds costs about $175 per month. Lucky is part of SAINTS' palliative care program. This is one of our very most important and moving programs, providing respectful, and compassionate end of life care to the animals who after a lifetime of faithful service to mankind suddenly find themselves near the end of their lives alone, frightened and homeless. SAINTS tries to make sure then when our vets decide that it is time to let them go, that animals like Lucky can leave feeling loved and valued. Marvin the cat is also a resident of the MP building, he was a cat that came in massive pain, needing a major dental. His dental and follow up meds have cost a little over $1300.
In summary, the MP building is a a building of misfits and animals with high medical, emotional and behavioral needs. Pledge to help senior animals.

You can make a pledge through
Pay Pal
(just note that it is for team MP Building) or make a donation by dropping it off to SAINTS or mailing a cheque to Sheila Kullar (just email
events@saintsrescue.ca
for an address). Only donations of $25.00 or more will receive a tax receipt.
Thank you for supporting SAINTS rescue.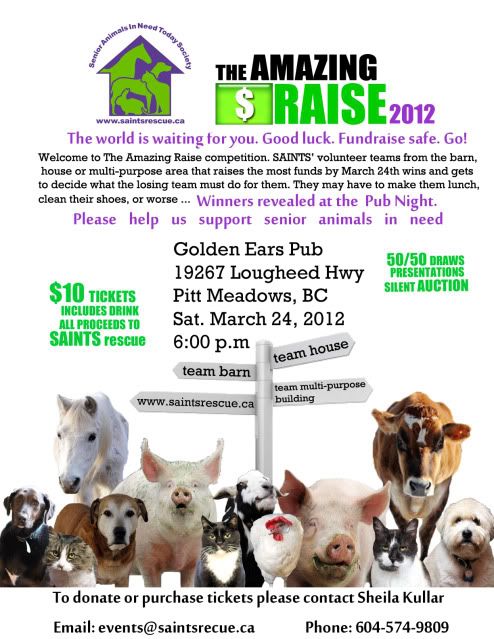 Facebook Event Page: https://www.facebook.com/events/107200072739086/