Rescue Journal
i am very sad to report that today we lost dusty.
Carol · May 20, 2012
she couldn't get up this morning and there was obviously something seriously neurologically wrong with her front right leg plus her hind end was weak and unable to support her.. i thought maybe she had gone hypolycemic and seizured and stroked, i spoon fed her and she wolfed down the food..and then i thought i smelled acetone on her breath..so maybe she was hyperglycemic and going ketonic..and now i was just guessing.
we loaded her up on a stretcher and took over to emergency..they checked her blood sugars..not bad...23 but she hadn't had any insulin yet and had a can and a half of high energy food so 23 was sort of ok considering.
while we were there, we found a large hard mass under her right arm pit that extended down her rib cage that i did not know was there and now we were thinking that mass had suddenly pressed on a nerve which is why the leg was basically dead. we did xrays and besides the mass it showed two suspicious ?cancer? areas on her sternum and rib plus it showed she had spondyliosis of her upper spine.
then i had to decide...bring her home overnight and hope she could get up again knowing that being unable to get up was freaking her out...and if she was unable to get up again, bringing her back tomorrow to put her down. she was going thru a major crises with a lot of scary things, especially for a blind dog.
i think if we had done all of the diagnostics to know absolutely for sure, i think we would have found that she had a malignant, fast growing and quickly spreading tumour that was now interferring with the nerves in her leg. if her back end wasn't already messed up and weak from severe arthritis..maybe i would have taken more time to think about it...like overnight, but dusty could not happily stay down and with only one functioning leg, she couldn't get up.
i didn't want to unnecessarily prolong her fear and suffering...i decided to euthanize.
i don't know if this was the right decision but i hope it was.
i love you dusty and i am so sorry to have lost you.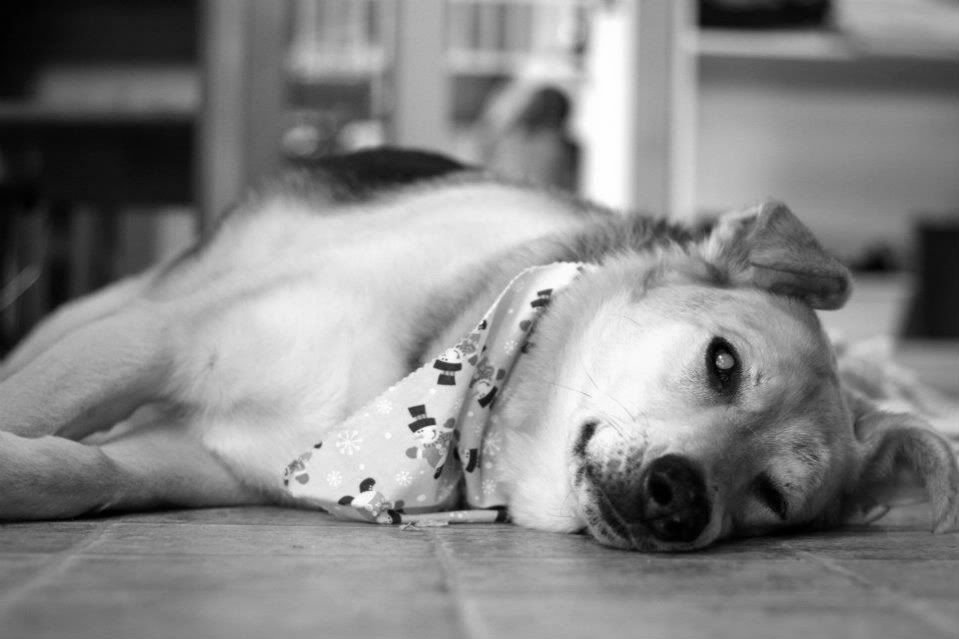 rest in peace baby, you were a very good girl.